Scandalonstage Review
Scandalonstage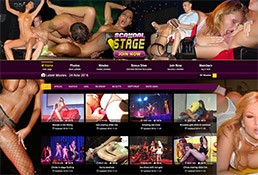 Price: $29.95 (30 Days)
All you need is to sign up on Scandal On Stage and you are ready to learn the other types of pornography available at the tip of your fingertips.
00000
Scandal On Stage Website Report
Intro
When people hear the name "Scandal On Stage" there are two reactions. The first reaction is a smirk or a semblance held back smile and the second reaction is a confused expression with a matching "What?" If you find yourself to be in the second reaction, then fret not for I am here to educate you and at the end, make you a believer. As the name implies, Scandal On Stage is an adult video website that caters to the voyeurs and their wild fantasies of on-stage performances of various sexual acts. Have I gotten you attention? Piqued your curiosity? Feeling a little risky? That is just the tip of the iceberg if you want to learn more, read on and be amazed.
Features
They upload new videos every week along with some screen grabs. The screen grab often tells you what is going to be in the movie and in some cases, where the live show was held! Yes, that's right folks, Scandal On Stage just might be held in your town! It's thrilling to know that you get hints of where they're having this adult video fair. Of course, they put some clue in the videos, giving you a hint on where they are. These are of course exclusive events so you can't see the executives pushing out some advertising on daytime television when your parents and the missus are home! They most definitely do not just rent a random hotel's ballroom, cover it up with some decorations and put on sexy black lighting. Scandal On Stage goes to great lengths to make their event more that you afternoon barbecue. With a name like Scandal On Stage, it lives up to its name, and the crowd would very much agree with them. One of the key features Scandal On Stage offers along with their membership is a Crazy Fetish Pass.
Content
As of writing this, there are 231 movies in high definition MP4 files and 13,817 crisp, sharp and high-quality pictures uploaded on their website. Members have the option to download the videos in high quality or medium quality if you are downloading off slow internet or on a mobile device. As for the images they are sorted into 113 galleries and can be downloaded in high resolution. The photos are only downloadable one at a time, which may sound like an inconvenience to others, but it has its benefits for those in the slow data download speed and low storage space department. It sounds like a lot maybe too much, even for the porn connoisseurs. But high-quality photos and mouth-watering videos mean nothing if it were not for the stars of the show, the female models.
The female models are more than phenomenal. They're not the usual blonde Barbie's that are long sticks. These women have body and sex appeal that commands the attention of an entire room. The moment they're on stage and the music plays, they just get down to the beat and gyrate their hips to the beat. There are various video types for your viewing pleasure such as solo performances, with the help of some sex toys, some lesbian action, a volunteer from the audience for a sexy special strip tease and threesomes, usually one male model with two female models. The best ones that are gaining popularity are tied between the threesomes and the lesbian action with some sex toy play. In my opinion, the one male two female threesomes are always a winner, because no matter who you are, it is every guy's wet dream to have two lovely ladies come up to you and fight on who gets to be the main squeeze.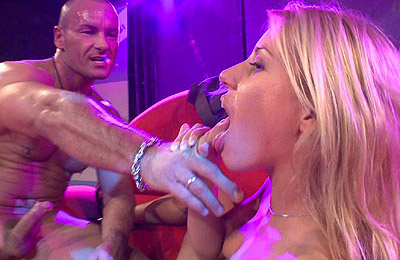 Conclusion
Unlike the other adult video websites out there, Scandal On Stage is one of the less pretentious companies that does more than just talking. Based on what we reviewed, they have more to offer than the other websites and they just pale in comparison. The only question remaining is why aren't you signing up for membership right now?
Enjoy the other best paid porn sites or more on Scandalonstage.