Racksandblacks Review
Racksandblacks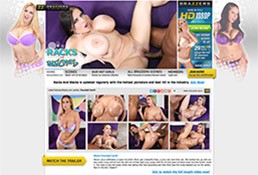 Price: $1.00 (2 Day Access)
Interracial sex is one of the most popular categories in porn sites and RacksandBlacks is the site that is perfect for all the interracial porn lovers.
00000
Racks And Blacks Website Report
Intro
Interracial porn usually involves a black man with a massive cock and a white woman with big round breasts. Due to its history, interracial sex between these two races gives a certain arousal as it falls under forbidden sex, thus the reason why it is one of the most watched videos in the adult entertainment world. RacksandBlacks is a site that uploads these types of videos that involves interracial sex, they cater to that audience who loves to watch white women with big breasts get pounded by long, hard black cocks.
Features
The site is powered by Brazzers and has been one of the best porn sites on the web since 2013 and it features interracial sex between black men and white women. As you open the site you will be able to see their high-resolution pictures and wallpaper of women with massive black cocks in their mouth or their pussy. They have about 100 high definition videos and all of them are downloadable and can be transferred to your device, they also have a user-friendly mobile version and they also offer fast streaming for those who uses their personal computers. They have a section on their site that shows their most popular and their hottest models and those are updated regularly too, depending on how many scenes the models shot and how many views their videos got.
As of this year, they have 24 gorgeous and insanely hot models and they are from different age groups, but they have two things in common, their love for black cocks and their big tits. Once you sign up as a member of the site, you will also have access to 28 other adult entertainment sites such as BigTitsInSports, BrazzersVault, DoctorAdventure, BabyGotBoobs, BigWetButts, RealWifeStories and many others. The site also has a customer support link available for members who have any inquiries, suggestions and questions regarding the site or their subscription.
Content
RacksandBlacks shows videos of sex between white women and black men but they also feature sex between black men and Latina women, in one video the site's model named Renae Cruz was filmed while wearing a sexy red lingerie, the camera focused on her massive breasts and perfect long legs, she was sitting on a bed while she was being interviewed by the cameraman regarding her sex life and about what she thinks about black cocks. She revealed that she loves them and that she loves sucking big black cocks, she was then asked to shake her boobs for the camera in which she did, she then stood up and removed her bra, making the camera man horny and excited however he told her that she will be paired up with someone else, then a black man comes in and they were introduced to each other.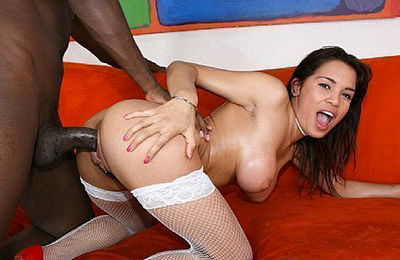 Conclusion
They have the hottest models and they got the black men with the biggest cocks. They surely do not disappoint when it comes to the sex scenes that they show for they do not have any barriers when it comes to doing it, they also do not use condoms making it rough and raw for the viewers.
Back to the other best pay porn sites or read more on Racksandblacks.