Povd Review
Povd
Price: $1.00 (1 Day Access)
You will be looking at tons of scenes of girls getting fucked senseless on your point of view.
00000
POVD Website Report
Intro
Don't you just wish that every porn video we watch, we could always join in the fun? I certainly would love to do so. I would like to feel all the action and all the goings-on first hand because that would be so hot and steamy. Thankfully enough, some porn sites help some of us guys get the relief we need via this type of theme. That is a rare feat though and I only know a few sites that tackle that sort of thing. One of these is Fuck You Cash's very own POVD porn site. Before you start scratching your head for immediate answers, I would like to inform you that POVD means "Point of View Digital" which means that this is exactly what the subscribers are getting. You will not be seeing men's faces but you will be watching these girls writhing under the camera and it would look like you are the one doing the nasty with them. This is honestly such a unique way to interact with the site's members and I am so beyond glad that they decided to take this sort of thing on.
Features
POVD's website design is very simple and very user-friendly. The black background hanging loosely over the back is a great mix of the white and blue fonts that the site has. With how simple it looks, you will not have a hard time looking over everything and you will not be straying away from the content since the design is put up to a minimal and is just aiming to promote the entirety of the site. The navigation is fairly simple and you will be able to locate the most vital links right away, without having to bob your head up and down in confusion.
The site itself exceeded my expectation as it totally focuses straight on the theme and genre of the site. Before I move forward, it would be good for you to know that this site is a pay only site and you will have to sign up as a member for you to access every other feature available on the site. A trial version of it is also up for grabs, but that will have to renew for forty dollars a month and trust me when I say that is not worth it. You are better off with a proper premium membership; that, and it seems like the cheaper and more convenient option. Since the site has been around for almost three consecutive years, you will be happy to know that there are tons of things to be done in here. You can add videos to your favorites, you may also rate them to your preference, and you can search and arrange them using filtered tags and the likes.
The site also houses some photo sets that you can download in zip files or save individually. Right now, there is close to 200 photo sets with 250 photos inside that you can view as much as you want. All these are taken by professionals and are airbrushed quite well. There seems to be a model index too but this only reveals the girls' photos and names, none of their other information. From here, you may have access to all of these girls' corresponding videos. They are all listed and once you click on their names or photos, you will be immediately prompted here. There are bonus sites that come for free with your POVD membership so check those out, as well. Make the most of your time and do not miss anything else.
Content
I have to say, the girls of POVD are all gorgeous and they are hot. These girls love a good fucking and they make it feel like you are the one doing the screwing. Their expressions are sincere and legit and this is enough to give you an erection. You will see a lot of naked ladies, opening their legs and their tight little pussies, as they succumb to the pleasure of having huge, throbbing cocks inside of them. The scenes are filmed in HD and can be downloaded and streamed online. You have the option to view them in your browser with a 1280 x 720 resolution. The same resolution applies to when you save it to your device in MP4 format. All scenes are labeled HD and there seems to be no download limit.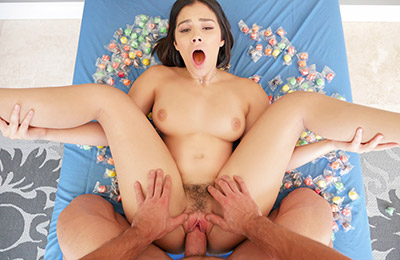 Conclusion
POVD is unique and I greatly admire the people behind this porn site for bringing this to public because I am smitten with this right here. Of course, I am recommending POVD to those of you who love to imagine yourselves screwing women senseless in a pornographic sense.
Go to the other pay porn sites or read more about Povd from other popular porn review sites.