Wasteland Review
Wasteland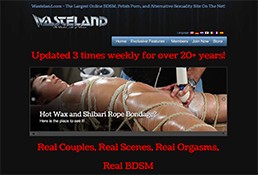 Price: $4.95 (2 Day Access)
The site treats its members to high-quality BDSM. Wasteland is all about showcasing adult scenes that feature the best use of whips, chains, leather and more!
00000
Wasteland Website Report
Intro
Wasteland is the answer to the prayers of anyone who loves great BDSM action. The site is clean, fresh and leaves you with a lot of things to look forward to. With the promise of such great action, you can never go wrong once you decide to sign up to this portal of pleasure. Even if fetish and BDSM action is not 'your thing', you will still be able to enjoy all of the time that you spend here and cherish your viewing moments and as such, you can always count on pleasure and satisfaction.
Features
When it comes to the combination of design and features, Wasteland is amazing in every sense of the word. No wonder the site is a two-time AVN –award winner! You can be guaranteed that it is the best portal to find a multitude of videos and photos that you can get off on. The interface is simple but unique, offering you all that you will ever need from a great adult portal. You will be spoilt for choice as you will not know where to begin! By all means, let's dive in.
Wasteland is filled with the right number of categories, category headings, and links that will lead you to the content that you desire. You will always have a great deal of fun and enjoyment anytime you log into the portal. Navigating through the site is easy and classically, Wasteland lets you comment on your experience here and share thoughts on what you think about the videos on the adult portal. As the platform covers a wide array of niches, you will be able to dibble and dabble in a tad bit of everything.
As established before, the photos and videos are of enviable quality and are only represented by the most original concepts. Some of the flicks are subdivided into a number of parts that create an illusion of a sexy soap opera of sorts. There is also a Wasteland theater that comprises of even more scenes. Streaming and downloads are in WMV and QuickTime formats.
Those who enjoy porn on the go can also be able to stream from their iPod.
Content
Wasteland has a plethora of hardcore models that you are going to exceptionally fall in love with. They are sexy in a twisted way and prove that domination is not only for the men. All of them are stunning, promising to treat you to sex sessions that will change your life for the better. They are not afraid to fill your world with intensity. It is almost as if putting themselves in the most compromising positions is what they truly enjoy.
It does not matter if you want to see redheads, blondes or brunettes because they are all here. The ice-cold look in their eyes lets you know that they have come to play and that they are excited to reel you in with all of their sexiness. Wasteland definitely does not have a lot of restrictions when picking the models because they feature girls who are tattooed as well as those who are not. If you find body art sexy then this site is going to do all of your sexual needs justice.
At times, they love getting restrained and subjected to all sorts of sexual discomfort. Other times, they love being on top, trampling on your body with their seven-inch heels and using a whip to create sex marks that will last all over your body. Even Shabiri sex action is not exempted from these scenes. Love hot wax? The models on Wasteland show you that candles can be put to better use than illuminating a dark house. The level of suspense in the videos will consume you, proving that entertainment here is top notch.
Conclusion
Wasteland is a site that treats you to the very best of high-quality BDSM scenes. You will not regret your decision to sign up here. Despite the fact that the platform has been in existence for years, it is still able to maintain a greatly entertaining collection. All fetishists will enjoy all that is in store for you here. Apart from the large collection, you can also count on updates that will keep you occupied at all times. Sign up today for the amazing experience.
Don't miss the other top paid porn sites or more on Wasteland.