Cutiesflashing Review
Cutiesflashing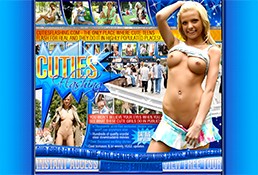 Price: $5.95 (2 Day Access)
This really is an awesome porn site for different kinds of people: those who love fresh chicks, those who love public sex, and to every other porn fan out there! This porn site is fun, exciting, and just downright awesome.
00000
Cuties Flashing Website Report
Intro
What turns you on the most? Do you have a particular thing that gets you stimulated every single time? I bet it's something exciting. Most people have this thing for excitement, you see. Once the adrenaline starts pumping, you can be sure that their nerves between their thighs will start throbbing too. There is no shame in that because that's just human nature. When we get excited, it's easier to feel other emotions.
For instance, I personally get turned on with public sex scenes. I respect girls who are brave enough to do so. Just thinking about them, what's going through their heads, is enough to get me turned on. In fact, I'm turned right now as I'm writing this! The reason is because I am going to review a very daring porn site as well. It is somewhat connected to my fetish for public scenes. The porn site that I am going to review today is called CutiesFlashing.
Features
The best feature of the site, well, in terms of the design that is, is its welcome banner. It is made up of a collage of pictures, all of them scenes within their existing porn videos, along with other graphic elements. You will be surprised at how busy it is yet so well put together. Aside from that, it also tells a lot about the porn site and what it's all about. In fact, I have learned more about CutiesFlashing by just staring at the header or the banner than taking a look at the rest of the page. That's how effective their banner is.
Scrolling down, you will see the different previews of their latest scenes. They are absolutely crazy! More on that later, though. For now, let's focus on the thumbnails. Each preview contains different sized thumbnails. Aside from the thumbnails, they will also give you the girl's name and age. At first, you won't really notice it, but they actually have a formula in presenting thumbnails. First, you're going to see how "naked" the girl went, and then, they will also insert a couple of pictures there that show other people, civilians, chancing more than a glimpse of these ladies because they're just there! What's funny is that at some point, the strangers are the ones who look out of place and not the models. I don't know why. Maybe it's because I'm looking at from a porn site angle? Maybe that's it, I'm not sure.
Content
And now, let us move on to the ladies. Like the title suggest, they are absolute cuties. They all look sweet but don't underestimate these missies. They are daring as can be. Just think about it. How many ladies do you know in real life who would be brave (not to mention confident) enough to strip clothing in public, or walk around naked in the park! I know a lot of girls who would already flinch at the thought of not wearing a bra outdoors, despite the Burn your Bra movement.
But the girls on CutiesFlashing? They can walk naked and expose all their lady bits spread eagled in a park, beside the railroad, and other densely populated areas. I cannot get over how crazy that is! You can probably sense that I'm really turned on. Well, who wouldn't? I bet you feel the same exact thing. What's also impressive is the quality of videos that they produce. I'm thinking that because flashing is prohibited in the country that they're in, the only equipment that they have are handheld cameras. But man, their videos are all in high-definition quality.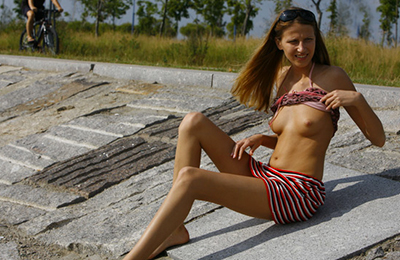 Conclusion
I know you guys are already planning on signing up so let me do the liberty of walking you through the process. This porn site has four plans for you to choose from: a two days full access, thirty days, ninety days, and one year. Yes, that's right. It doesn't have a trial option. Instead, it offers full access to two days, so that's the way to go if you want to take a look at this porn site first before you finally sign-up for a monthly plan. A final word about the registration. Be sure to take a look at the payment method before clicking on the option that you want. The options are presented in buttons that are sorted out according to how you want to pay for them. Other than that, feel free to enjoy everything!
Look at the other best porn sites pay or other reviews of Cutiesflashing.