Teensinthewoods Review
Teensinthewoods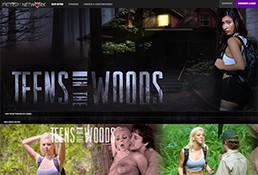 Price: Free (2 Day Access)
This is one of the most fun websites that's been created in the history of porn websites. It's that unique twist between a typical horror movie and a sex tape but made to become more than both.
00000
TeensInTheWoods Website Report
Intro
Ever wondered what sort of possibilities that cabin horror movies missed out on by not getting it on with their hot actresses? Ever thought about what you could have done if you were part of that film? Or maybe you have wondered and your imagination has already gone wild with the possibilities. In TeensInTheWoods, it will be more than just your imagination doing all the work. In fact, they offer to do all the work and more; creating blockbuster worthy production films with the hottest and sexiest actresses being accosted by the sort of people you know are lurking in the woods.
Features
The website's style is faithful to what anyone can expect from a horror-themed niche. Dark backgrounds against contrasting texts, the font on a lot of text are similar to the sort you'd see in slasher movies and psycho thrillers. There's the feel of stumbling into the unknown and being isolated. Just the kind of atmosphere to be expected for the gasps, screams and moans to come. Links to partner sites and other bonus features are clearly marked and placed strategically so it doesn't interfere with the views. You'll be enticed to stay on for longer than planned with all the tempting photo galleries displayed all on the page.
The models are making eye contact with the viewer from across the screen, their message clear: "I got lost in the woods but I'll gladly lose myself again and again!" It's not a bad thing either that the videos are quick to load up, meaning nothing will interrupt the viewer from enjoying scene after scene of the great outdoors a great rack. The niche used to be just for couples, or strangers in lust motivated by money to engage in love play in the middle of the woods. This time, the site offers a lot of other roles added in the mix. But mostly it will offer to give you that BDSM fix that's so difficult to satisfy. Every type of set-up that can be managed into a cabin-in-the-woods story is here. The main hero being a certain Park Ranger Brick who's more than willing and ready to do his duty and give these girls a mind-blowingly unforgettable experience after either rescuing them in the woods or at least keeping them safe. There's a sizzling summary of each video that goes with a trailer, to tempt anyone beyond any doubt.
Content
Imagine the hottest or the most trending porn actress of the month, and in her runner-up and the next after her; throw them out in the middle of a dark forest doing black magic wearing nothing but what the gods gave them. After their captivating blasphemy of a ceremony, they can't help but relax and sink into a girl-on-girl-on-girl orgy. The next day one of them meets a self-righteous park officer who determinedly fucks the demonic heathen inside of her. Making sure to be on the safe side by not stopping until both of them come.
Imagine again: the most delightful and most sinful bodies sneaking into a cabin in an attempt as Cat Burglars. Getting caught in the act by a secretly depraved Park Ranger named Brick. And atoning for the crimes committed by acceding to his every whim and fancy by agreeing to be a Slave to his Master. This is just a few of the films that are featured in TeensInTheWoods right at this moment. Leading ladies of porn like blonde bombshells Marsha May and Goldie Rush are headlining the site's highlighted productions.
Gorgeous beauties Cadence Lux, Lydia Black and Jade Jantzen are the latest featured stars. They go through just what was described above and more, satisfying even the most disturbed imaginations out there. If you haven't heard of these women yet, you'll soon wonder why once you see them in action. They all deserve all the awards for the best acting and the most orgasmic performances. Titles like 'Gina Valentina Artists and Models', 'Kirsten Lee Wood Nympho' and 'Sally Squirtz Cabin Fever' are sure to promise and deliver unforgettable scenes and the most delicious screams.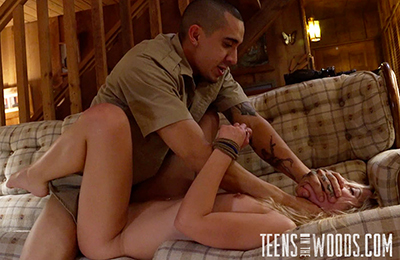 Conclusion
Every video here is certain to seduce the viewer regardless of how many they've already watched just a second ago. Plus the best part of subscribing as a member is the amount of other choice fetish sites readily available. No one would regret a membership in TeensInTheWoods, and that's a fact!
Go to the other pay porn sites or to other reviews of Teensinthewoods.
| Review Site | Trial | 1 month | 1 year (per month) |
| --- | --- | --- | --- |
| Reviewsporn.com | Free | $39.95 | $16.67 |