Sapphiclovers Review
Sapphiclovers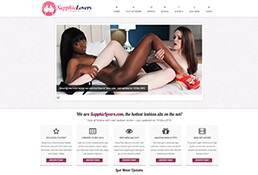 Price: $29.95 (30 Days)
A lot of kissing and a lot of groping and that, my friends, is what turns me on the most when I see a really hot girl on girl action.
00000
Sapphic Lovers Website Report
Intro
There is just something about girls going down on girls that keep the energy pumping to me and my groin. Is it because they are both gorgeous? Is it because they are both equally hot? Is it because it seems like it is twice the fun? Or maybe all of the above? I am a superficial guy and when I see tits and pussies, I get a little carried away and I get overly passionate about a lot of things that would include the both. So, when you give me lesbian porn sites, expect me to get all giddy and excited about it. Right now, I am jumping up and down my seat as I browse through everything that is glorious on this site. What site, you might ask? Well, this one right here is called SapphicLovers.
SapphicLovers is by ExtremeMovieCash and has been around since November 2014 is part of EMC's most amazing websites ever brought to mankind. Okay, so I might be over exaggerating with my statement back there but it is rather true. EMC is known for their unique take on things and because this is your classic European porn site, expect it to be hardcore and just delicious in so many ways. Come on, we all know Europe has some crazy sex going on. Even their juice commercials have two lesbians eating each other's faces! So imagine my joy when I came across SapphicLovers! Sapphic, if you are not familiar, is another term for lesbian, only it sounds classier and sophisticated.
Features
EMC did a good thing when they made the website design for SapphicLovers just simple. For keeping it simple, they made it hard for the members to stray away from the major content which are the scenes and the movies. With a white marbled background at the back and the black and gray fonts harmonizing with it, you could say that SapphicLovers has something of a minimalist thing going on. Everything seems very straightforward and uncomplicated. The navigation is pretty simple and the interface is very user-friendly. On top you find the most important links like the 'Home'button, the 'Network' button, the 'Movies' button, the 'Bonus' button, the 'Models' button, and the 'Log In' button. If you have not joined in yet for fun, you would see the 'Join Now' button.
Unfortunately, if you are a not a member of the site, you will not be able to access any of the things and the features inside. Also, there is no trial version available, so you will have to opt for the monthly subscription if you want to get in. Take my word for it, though, you will enjoy every bit of your time in here. SapphicLovers however, does not have a photo gallery available, just like most sites coming from EMC. It is mostly just videos but you do get video caps which you can view via slide show on the site itself. Besides that, you can access the model index where you will find portraits of your favorite girls with their names and short biographies on it. Also, you may rate and comment on the scenes, as well as save them to your favorites. With your SapphicLovers membership, you get access to 20+ other sites for free that are naturally under the EMC network. You will have access to sites like Dildo Penetrations, Flexi Fetish Girls, Smoking Bunnies, Glamour in Fetish, Her First Kisses, Casting Bunnies, and much more.
Content
The lovely ladies of Sapphic Lovers are majorly European and they are as delicious as you expected. They delve into really deep lesbian porn and despite it being a girl on girl action, you get all the hardcore stuff. Fret not because you can view the entirety of these scenes by watching them in your browser, via an embedded flash player or download them to your device in mp4 or WMV format. All options will guarantee you a 1920 x 1080 pixel resolution or a 1440 x 1080 pixel resolution. Right now, there are 100+ videos on the site which are available for viewing.
Conclusion
I loved every bit of time in SapphicLovers. Their video quality is great and their content number is high. Sure they do not have the usual photo galleries we are always faced with, but they make it up with the hi-res video caps and the free bonus sites they offer. So, do not forget to check this one out or you will be regretting it.
Return to the other paid porn sites or read more about Sapphiclovers from other popular porn review sites.