Seemygf Network Review
Seemygf Network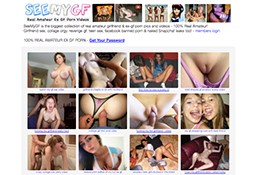 Price: $1.00 (2 Day Access)
Are you tired of plastic porn videos? Now you can visit See My GF where different girls make real love. Here many videos and over 10000 photos.
00000
See My GF Network Report
Intro
SeeMyGF is the most popular amateur porn site. You are treated to sexy hot amateur models that could easily pass for your next-door neighbor. The videos are user-submitted but they are pleasant flicks that will tick you right to the bone. The girls also have an admirable taste for sexy lingerie. They are endowed with curvaceous figures that make them fit in the attractive lingerie perfectly.
Features
SeeMyGF is one of the most organized porn sites I have ever visited. The home page is filled with a host of navigation and access features. There is a category list that allows you to choose entertainment from your preferred entertainment niches. Some of the notable categories include Anals, Lesbian, Blowjob and Big Tits. I could also use the content tags to check out the videos in a flash. Other options include going by the user ratings or clicking on the tagged images splashed across the pages. The content is also updated regularly. I could scroll through the updates and settle for my preferred flicks too.
The real show stopper for me is always the search tool. If it's as effective as the one on SeeMyGF, I don't hesitate to give it a thumbs-up. Users can also sample videos on their mobile devices. The streaming experience is smooth and seamless on both mobile phones and PC. Users have the liberty to choose from any of the subscriptions including one, three, six months and annual plans. There is a ton of content to savor on SeeMyGF. Enjoy the daily updates that add to your viewing options and value. The site regularly updates both pics and videos.
Content
The dudes have decided to share their pleasure moments with girls they had a thing with. I wouldn't do that to a girl I screwed with so much glee, but, yes, it happens on See MyGf. The dudes want you to check out just how they drilled their cocks in their ex-girlfriends' holes. Apart from the beef, you could have with the decision to share such steamy content; you will agree that the end justifies the means. The dudes must be having a rare fetish that makes them derive satisfaction from such controversial decisions. If you are a girl, you certainly do not want to be an ex to any of these dudes. Well, away from the beef between boyfriends and girlfriends, the end justifies the means. The content, at least, adds a sexual punch to our lives.
Check out hot amateur cuties stroking their clits close to the camera and moaning in excitement. The girls are also featured in solo scenes as they sink sex toys deep into their pussy holes. You will be carried away at the sight of the cuties responding to the deep thrusts of the dildos exploring their warm soft inside. Some scenes feature the girls in lesbian action. They squeeze, stroke, caress and fondle their friends' bodies in ways that will leave you spilling cum in your pants. There is a ton of content to savor on SeeMyGF. With over 4 000 videos and 10000 scenes, you are in for an endless entertainment spree. If you love the nudity shows in still form, check out impressive pics in over 5600 galleries. Each scene contains an average of 10 photos.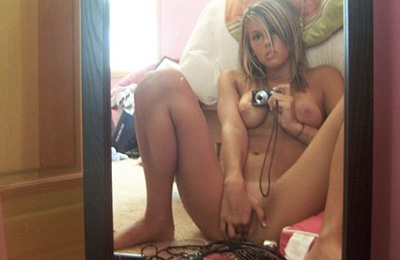 Conclusion
SeeMyGF features hot amateur models being screwed by their boyfriends in a variety of locations. The sex is hot and comes in tons. The user interface is beyond reproach. I could sample any videos or access any photo I wanted with ease.
Back to the best premium porn sites or read more about the SeeMyGF porn network from other review websites.