Dontfuckmyass Network Review
Dontfuckmyass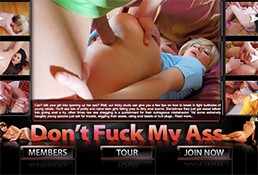 Price: $24.95 (30 Days)
On Dontfuckmyass a list where you can find the anal porn sites. It offers you many videos in High Definition and pictures for your enjoyment.
00000
Don't Fuck My Ass Website Report
Intro
DontFuckMyAss is exactly what it illustrates and denotes. It is a porn site that focuses a whole lot on everything anal. Anal fucking, anal eating, anal fingering – you name it and they have it. Ultimately. Its primary niche, after all, is anal sex. It is hardcore and it is a great way to spend your day. This site inherently features really hot ladies getting those rock hard cocks shoved up their taut and rigid asses. Get ready to see girls prep up their butts before any penetration is done. DontFuckMyAss "shows" boys how to make their girlfriends enjoy anal penetration. They claim to have tips and ways on how to make it easier for their girls to say "yes" when it comes to crazy anal sex. They also mention how the ass is not only meant for cocks but other toys as well such as vibrators, butt plugs, and anal beads. But really, who knows what else they love to shove in there? That aside, I'll have you guys know that the site has been around since February 2011 and is being managed by Bad Boys Cash, a porn network that brings you other unique niches that you'll be interested in, as well.
The majority of the content of this porn site is European and you will be able to notice that with how the styles and models are portrayed. The site is a concoction and batter of erotic and intense intercourse that, of course, revolves around the ass. They use different methods to keep that ass up and going: fingers, toys, and cocks. DontFuckMyAss lives up to its name but these ladies tend to give in all the time. At first, they'll be reluctant but after a few minutes of probing, you'll be overjoyed to see that these horny ladies are the ones stretching their holes to play with anyway. It may sound a little common, having anal as its primary niche, but trust me when I say the twists and juices are quite surprising on this porn site.
Features
DontFuckMyAss has over 40 videos (lasting about 20 minutes each) or more and over 20 galleries (or more) that have 100 photos inside of them. Considering how the site has been around for quite some time, the content count is pretty low. Trial version(s) of the site is nonexistent, so you'll have to go out your way and make up your mind about having a monthly subscription or not. If you do want to make use of all the features and watch all the videos this porn site provides, you'll have to be a fully registered member of the site. Being a member will entitle you to stream videos in your browser, in two options the most, in a 1440 x 1080 pixel resolution or a 1024 x 576-pixel resolution. Both can be adjusted when in the browser and both have no DRM restrictions. That's practically 20 minutes of anal action caught in high definition. Again, you won't be able to download any of the videos available on the site.
The photo galleries are different, though, as you can still download them in zipping files. The hundreds of photos inside each set are stunningly beautiful. The way they were shot and produced was breathtaking. The updates, though, seem to be cluttered and all over the place. Despite a promise of a weekly update, they seemed to have seized all update plans. I am still positive though that they're going to give us something new in a few months. Also, with your membership in DontFuckMyAss, you get to have access to other bonus sites that are under the Bad Boys Cash network. Sites like My Sissy Boyfriend, Matures Under Boys, and Boys Under Matures, just to name a few, will add up to your adventures with their different niche and take on porn.
Content
The girls in DontFuckMyAss are just like what you imagined. Pretty fresh-faced, gorgeous, sporting banging bodies in different shapes and sizes, their asses in different shades of pink but equally just as tight (of course, before it gets ravaged by huge foreign objects, then that tight butt hole will just be gaping, dripping in white cum). These girls "portray" various roles such as reluctant girlfriends, first-time anal angels, rebellious chaps, naughty and lustful sluts, and curious lassies. The production is great and you'll enjoy the scenarios these producers come up with! It is not just the usual "fuck my ass and shove everything you can get your hands on" kind of thing. It has more substance and more surprises. They put on the effort of making it look substantial instead of making it look empty and common. That fact itself makes DontFuckMyAss a little different and unique compared to other porn sites with the same niches.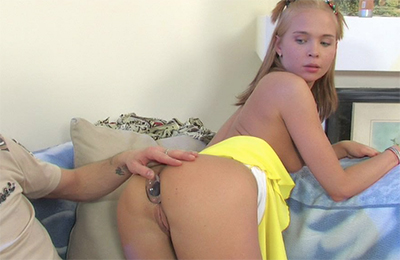 Conclusion
If you are into anal sex and play, then I totally recommend this site for you. Not only is it hardcore, but it has a tinge of erotica in it which makes it pretty neat and sensual. Although the video count is quite low, the video quality makes up for it as it is in high definition. Photo sets are also in hi-res. My issue would lie upon the low content count and the inability to download videos. Sure, streaming is okay but it is quite nice if we get to download the videos for ourselves too. On a brighter note, everything remains exclusive so it does not get overused by a ton of other porn sites. Unlike videos, though, photo sets can be downloaded so no problem with that. Updates are pretty slow and seemed to have halted at the moment, but hopefully, they start adding new stuff again. Contents seem rotated at most and the scenes are not in the English language. There are subtitles, though. Lastly, you get bonus sites along with your membership, 8 to be exact. These sites cover other genres and niches so that's more stuff for you to explore as soon as you become a premium member of DontFuckMyAss. Again, I'm totally recommending it.
DontFuckMyAss is no longer updated. You can enjoy a similar content HERE.
Back to the best paid adult sites