Safarisex Review
Safarisex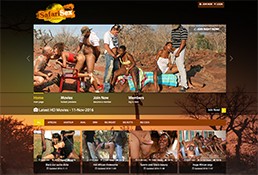 Price: $29.95 (30 Days)
Sure enough, SafariSex runs tons of scenes that explicitly parade a strong manifestation and representation of both BDSM and some other kinks that are bound to arouse some us.
00000
Safari Sex Website Report
Intro
When you hear the word safari, I am sure the first few things that would immediately come to mind would be animals, trees, watering holes, and grasslands. You will not, in any way, think of some porno stuff going on down there. You would not, would you? You would embrace the throng of furry creatures and would not be expecting the possibility of men and women getting it on in a wild drive of ecstasy. SafariSex is exactly this kind of porn site. It is a haven for ebony girls who love being fucked in all forms. Its primary aim and target are focused on, well, ebony girls, hardcore sex, BDSM, and fetishes.
This porn site, handled and supervised by none other than porn magnate, ExtremeMovieCash, actively exhibits a variety of scenes that boasts and advertises a bunch of dark skinned women who pampers themselves in the form of some intense fucking. These ladies and gents satiate and satisfy their lower regions by hooking up with each other and savoring each and every second of their merry and generous screwing. They essentially screw day and night, most of the time, in the outdoors or inside vans. Grasslands, barren lands – as long as it is on the radar of the entire safari, every single location is their sex den.
Features
Now, if I were to rate the overall interface and design of SafariSex, I would give it a big fat 9. That is obviously a scale from one to ten. It might not be a perfect 10 but only because it needs a little more browsing features. If we talk about the attractiveness and appeal of a porn site, SafariSex seems to have opted for something basic. Then again, website designs are just scratches on the surface and you will be pleased to know that the navigation is very user-friendly. Nothing is complicated and perplexing; all seems to be very orderly and clear. It does not seem cluttered and that is the only thing that is good about their design (which does not seem so bad at all). For starters, you will need to be a paid member to be able to gain access to every single thing inside SafariSex. Sadly for those who prefer waiting out, a trial version does not prevail or exist.
Moving on, if you are already set and ready to dive into this wild safari adventure, just head on to the member's page by clicking the link just right below the slideshow of photos that you will see once you enter their website. These streams of photos would seem like the site's banner. Along with the member's links, you will also find the home page button, the movies button – all in the same row. Below the general links, you will see links that correspond to certain tags or genres that the website hosts. SafariSex is a site that practically tackles a lot of sexual hustles and bustles.
When you click a certain tag, they will navigate you to the videos that conform to the corresponding term. They have tags for African, amateur, BBW, big breast, big butts, and big cocks, respectively. Now, do not think that these are the only things they take on because there is still a whole lot more out there. They have an updates page but no model index and it seems like there are no photo sets as well. You can rate each scene add them to favorites but you cannot comment, nor can you find an advanced search bar to help you with your browsing experience. No bonus sites are listed, but that's probably because this site is still fairly new.
Content
This site exhibits and flaunts really hot ebony skinned ladies that seem at the top of their game. These sex crazed individuals will show you the ways of how they do it in the jungle: wet and wild, with a few more toys here and there. The toys look like uncivilized versions of glass dildos, anal beads, and ball gags. We also get our air share of all things BDSM happening in vast grasslands, or in the Savannah dirt, or even at the back of moving or still van. From earlier this year, up to now, the number of videos has been rising to almost 100, but no that close yet. Updates are happening real fast so that's a very good thing. All scenes can either be streamed or downloaded in mp4 format. Both ways, you can get a 1440 x 1080 pixel resolution or a slightly lower one of 788 x 576.
Conclusion
SafariSex has a chock full of great content. It is pure and adulterated, that is why I am recommending this to people who love their fair share of everything hardcore. Updates are going smoothly and the site is growing at a remarkable rate.
Don't miss the other best adult pay sites or read more about Safarises.