Pissinginaction Review
Pissinginaction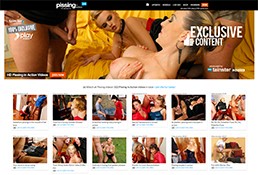 Price: $24.95 (30 Days)
The site is keeping up with the competition in the porn industry. This watersport site is not your ordinary pissing porn site because it guarantees high-quality contents only.
00000
Pissing In Action Website Report
Intro
If it's not obvious enough, Pissing in Action primarily belongs to the pissing category or niche. Its secondary niche is all fetishes and hardcore porn. If you are into wet sex, then this site is suitable for your taste. Also, don't miss the hardcore action in every scene. The standard pricing for the membership is very affordable. The amount is just chump change to join, you have the option to pay either via credit card or postal mail. However, at the moment, their membership plans are discounted. You can choose to pay for membership on a one month or three-month basis. Sounds like a great deal, right? I also noticed that there are other discounted pricings available if you search well enough.
Pissing in Action already guarantees you with 100% exclusive contents. Although the video quality is not consistent in every video, there is still a handful of them that are superb and that will leave you wet and wild on your seats. Also, you definitely won't regret getting bonus access to about a dozen and a half network sites if you sign up because becoming a member of Pissing In Action already makes you a member of the entire Tainster network.
Features
Although the site name already suggests a lot of action in its contents, I don't think the site design offers that much action. Don't think of it negatively though because on the brighter side, the site's simple design makes it straight-forward to its visitors. In a glance, you'll be welcomed by a gallery of erotic images with, of course, thumbnails that suggest a lot of pissing and hardcore sex in the scene. You can also see the duration of the video and some catchy video titles. If you're not yet logged-in, you'll be asked to sign-up or enter your log-in credentials to watch the video. There is also the menu bar which makes it convenient to navigate the page and jump to other network sites.
If you want to get to know more of the girls in action, you can also look them up in the model's section where the girls can be sorted out by name, by zodiac sign, by ethnicity, by boob size, by age and by country. You can also select among the other porn sites included in Tainster network through the drop-down box located on the upper right corner of the page. There is also an advanced search box to aid the users in browsing through the contents. The site also updates on a weekly basis.
Content
What can you expect from a European porn site? — Great boobs, great ass, and of course, great sex, right? But that's not the only thing offered in Pissing in Action. There's also a lot of pissing too! There are currently over 170 performers on the site which mean that there are plenty of girls to choose from. Since most of the models are white, I think they can only be rated according to their performance.
Most of the models look amateur, so it's quite interesting to see how these girls progress in the upcoming videos. The body type also varies. There are slim girls while there are also chubby girls. You'll also notice that in most videos there are usually at least 3 performers. Each would take turn pissing and simulating the other so who said that three is a crowd? Kidding aside, there's also penetration in most scenes with little to no chances of condoms. There is also pussy licking done either by a female performer or a male performer. Regardless of the gender, either of these two performers rock the licking game.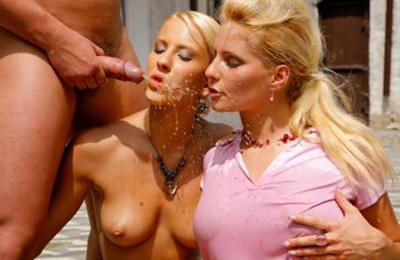 Conclusion
Although there are some minimal lapses when it comes to the quality of some videos, it is easily compensated by the overall impact of the site. The quality of the older videos is also commendable. The models are all hot and gorgeous and I think they were screened well for this job. Moreover, I think it would be great if the site will add more variety in their videos. The varying location is already a good step for this. With that said, I think Pissing in Action will be a good choice for those who have a crazy pissing fetish. The affordable and wide range of discounted prices is also something that you should not miss.
Don't miss the other best adult pay sites