Partyhardcore Review
Partyhardcore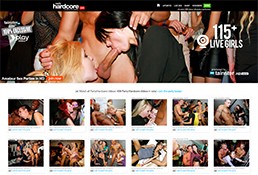 Price: $24.95 (30 Days)
Also, before I forget, PartyHardcore is not only a porn site for those who love to get it on while at parties but it is also one of the best group sex porn sites that you will ever see online, so if you are a fan of this niche, then, by all means, visit the porn site and start partying!
00000
Party Hardcore Website Report
Intro
How often do you party? Every weekend? Are you even a party person? Well, let me tell you something. Every person is a party animal deep inside, even those who don't enjoy parties. It's not that they don't enjoy parties, they don't just like something about parties. For instance, one person might not enjoy the noise, while another one might not enjoy the crowd and the fact that it's hard to score a nice comfy seat and conversation – but that doesn't mean that they don't enjoy partying per se.
 So for all you guys out there who love parties but just can't go to parties as much as they want to, or because of some of the reasons that we have mentioned above, this porn site review is perfect for you.
 We are talking about the porn site PartyHardcore. It is the party that all of us have been waiting for: the never-ending party where you can just go and leave anytime you want and when you feel like coming back – it's still there!
 One of the best things that I even love more about this site is that PartyHardcore is not just your regular party.
Features
The porn site's website design is also one helluva party – and it's not because of some flashy and colorful light display. Surprisingly the website design of this porn site is simply a black and white color theme and that's it. However, the party element is still there because of its thumbnails.
 The entire homepage is filled with their latest thumbnails. They fill up the page. These thumbnails show the latest and most hardcore party sex scenes that you have ever seen both in porn and in real life. What's more is that some of these thumbnails are more than just your usual screenshots, some of them are in this animated gif style that also serve as preview trailers to their best videos.
I tell you, the only thing that is missing from this homepage is some good techno music and it's already a party on your screen. 
Finally, one of the sites features that we also appreciate a lot is their way of regularly updating the site. Currently, according to the site stats, PartyHardcore has more than four hundred videos – and this is still counting every single week.
Content
Let us now talk about the ladies. The one thing that we love group sex scenes is the fact the first, there are a lot of different ladies in a single video, and that second, there are a lot of things happening in a single scene. So, as expected, there are simply a lot of different types of girls here with different ethnicities to mention anything in particular. Just keep in mind that you will be enjoying a lot of ladies and they will vary a lot.
 As for the scenes, well, like what I have just mentioned a while ago, there are a lot of things happening in a single video. In fact, in just three seconds worth of a scene, the porn site has already managed to squeeze in an equivalent of three to five scenes of regular porn videos.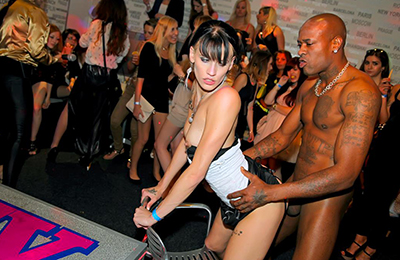 Conclusion
Look, we have found a lot of different porn sites, and a lot of them also cater to the same type of niche that this porn site presents. What sets this porn site apart from other sites though is the fact that the PartyHardcore site knows how to have fun.
We have not seen a porn site this lively in a while. The usual scenes that we see in porn are intimate scenes shared between a couple in the comforts and privacy of their room. Now, I don't want that on porn because I already get to enjoy that in real life. I watch porn to enjoy and have fun – and that is exactly what the PartyHardcore site gives me, a sense of fun and fulfillment every time I get to finish downloading and watching one of their videos.
Back to the other adult pay sites or go to the other reviews on Partyhardcore.