Nip Activity Review
Nipactivity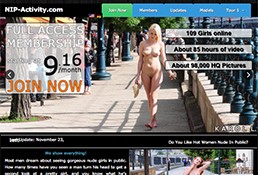 Price: $29.95 (30 Days)
NIP activity is a website that features gorgeous European women walking around the shops, streets, around restaurants and natural monuments amidst numerous pedestrians and spectators.
00000
Nip Activity Website Report
Intro
This website has been running their show for three years, and as you visit their website, you will find that their website is brimming with superb footage all exclusive in nature that they have collected to date. Most of these videos have been shot at the request and fantasies of their members. The length of the videos varies and again we say, there is no inclusion of sex, penetration and even stimulated sex. The stripping is done in the first instance.
The girls might be sitting on the bench and then standing start to wiggle her clothes off their beautiful shoulders and pass her hips, and as they will step out of their pooled fabrics, they start their stroll. The responses of the onlookers are instant, and the cameras that lead them will allow you to catch glimpses of old men in astonishment, old women perturbed, cat calls, the tourists clicking snaps and some even interacting with them. However, the thing that is surprising is that most of the denizens present seem quite cool with it and after some clicks they go on with their business.
You will find no shortage of videos and pictures when you visit the website. You can either download and watch them directly on your desktop or mobile handsets or watch them online by streaming in Flash video player. These videos are available in two high-definition options, Quick time HD-1280×720 that has 4mbits/s bit rate, and the other one is 640×360 WMV with 1mbits/s bit rate. You will also find these videos with superb background sound enabling you to clearly experience how the action unfolds. These nude strolls usually take place in Austria and across the German borders.
Features
One noticeable difference that you will find as you visit NIP activity is its easy accessibility. The websites are easy to handle. The menu bars along with the user interface are complex free. If you want membership, you can go to the sign-up page, enter the details that are asked and after the process is complete, browse through its vast collection of videos which is lined up.
You can also access the video previews and follow the high-quality contents just to know about the quality of the video even before watching it online or downloading it. This will enable you to distinguish which videos you want to watch and download. The web page also provides smart suggestions based on your previous searches to help you find your desirable clip. Regarding the membership payments, you can pay via the credit card mode. Rarely will you find such conveniences from an online adult site?
Content
As already stated, NIP activity focuses on real European women or girls posing or strolling around completely naked. All of them have stunning bodies, and their mischievous endeavors will make you excited. Unlike girls who strip off their clothes as a profession and for that undergo several operations to make their peculiarities more appealing, these girls do not undergo any such operations. And honestly speaking this is the real X factor of NIP activity. They portray nudity, and they do it with real amateur women.
Some of the names that are quite popular on the website are – Enni, Bailey, Aiko May, Eileen Sue, Jessy B, Victoria S, Mona Lee, Rihanna, Antonia and much more. About the videos, the lengths of the videos vary in duration. You may find long videos of 15-20 minutes and also short clips of 1-2 minutes. Most of them are in full HD except for the older ones. They are easily downloadable (every video at least four times) and their compatibility makes them work with many operating systems such as Windows, iOS, and Android.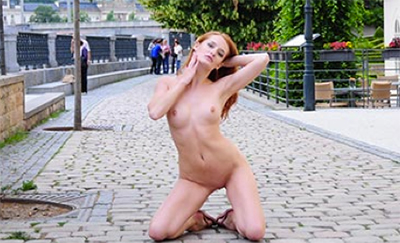 Conclusion
If the sight of watching beautiful women walking completely nude intrigues you, then the NIP is the site for you. With full HD videos and high-resolution pictures and top quality contents, your every wish will be fulfilled. The videos and contents are also constantly updated which means every time you visit the website you will get fresh products. This website is worth every penny which you usually spend for adult stuff. So just pay them a visit and it's a guarantee that you will not be disappointed.
Back to the other pay porn sites or enjoy more of Nipactivity from other popular porn review sites.