Fuckndrive Review
Fuckndrive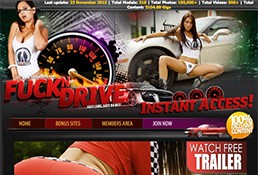 Price: $29.95 (30 Days)
The FuckNDrive is an exciting site. If you are a traffic-safety inspector or whatsoever you can still watch these videos without feeling ashamed for not calling the authorities right away, because the title doesn't mean that they fuck while they drive.
00000
Fuck N Drive Website Report
Intro
The sex takes place after the ride. In many cases they don't even get out of the vehicle, they just get on with the fun on the back seat. These professionally made videos feature hardcore sex on or in good-looking vehicles. If you are a man who likes to watch hardcore porn, the site's videos will satisfy your needs; but those who are looking for gorgeous girls making love with themselves on a shiny and sexy motorbike will also find satisfaction here.
Nowadays no porn site can stay online for long if it doesn't offer something more rather than its content. The folks behind the FuckNDrive also know that, and that's why they offer the members some neat extra in the form of a network access. You can find here sites with threesomes that end with girls covered in cum while another site features heavy hardcore sex with anal penetration and creampies. The exclusive videos of the FuckNDrive and the included sites will keep you busy between updates.
Features
The main feature of the tour is that it provides the visitors some good quality and juicy clips to make them want to get in. There are several pages to browse, so the site gives a good insight. The inner section isn't much different; only the menu goes up to the top of the page. This menu is just as plain as the site: you can go to the videos' list, the extras, and the bonus sites. There is a separate option to list the top rated scenes. No filtering options are implemented, though if the site grows bigger in the future it might be good to have. You may find it a bit weird, but there is no option for in-browser viewing on the FuckNDrive.
If you want to watch a video, you have to download it. Now it's not a big deal because all video players can start playing the videos without actually saving it so that you can stream them for yourself. With the lengthy videos though it would be wiser to save them thus, you can enjoy these HD flicks without lagging. There are photo galleries with each set, and since they are photos, you might even find some non-nude or half-nude pictures that would look right on your computer's desktop. You will have access to high-quality pictures. Though you may find some vidcaps. Each gallery has a zip download option for you.
Content
The models of the site are also gorgeous European cuties. They are mostly semi-professionals, which means that they have a few videos shot already, but they are not full-time pros. Given this fact, it's quite sure that you will notice that the girls try to enjoy the things they do, and when their pussy is wet, that's real and not some artificial lubricator. There are other types of models here, and those are the cars and motorbikes that the guys (or the girls) drive. You can find here some classy cars, and the bikes are also looking great. So if you have a crush on vehicles, you can enjoy watching them as they host some hot sex. Usually, two type of videos is available on the FuckNDrive.
There are really hot solo videos, and if you thought that girls can't be turned on by cars and bikes, you could see how they react after they took a ride on a hot model. In some cases, the girls are just fingering their nice pussies, while in other videos they introduce some dildos to their wet vaginas. In the collection of the FuckNDrive, you can also find a large number of one on one action, featuring girls getting fucked on the car, or in the car. Sometimes the video features the ride as the girls get to their man, and he fucks his girl on the bed. There are some hot threesomes too, where the girls are showing their enthusiasm for fast cars by fucking the soul out of its owner.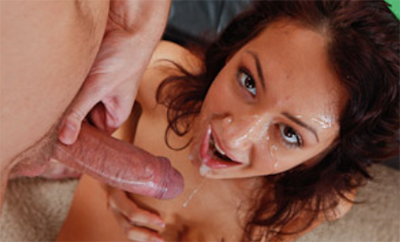 Conclusion
The videos are much more exciting since the girls are also perfectly sculpted, and watching them moan and scream on a motorbike or in a car is arousing. Don't forget to note that there are five other hardcore porn sites in your membership, especially if you are a Euro-girl fan, because all sites feature girls from Eastern Europe.
Return to the other pay porn or read more about Fuckndrive.