Jockpussy Review
Jockpussy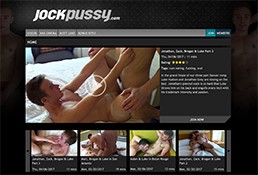 Price: $29.95 (30 Days)
Presented in technically the best quality a video could have, JockPussy has delicious hardcore sex scenes that are unadulterated and just full of obscene stuff you will not be getting anywhere else.
00000
Jock Pussy Website Report
Intro
Top hardcore gay porn to watch, JockPussy is all about the famous transgender Luke Hudson and his obscene sexual adventures with different athletic jocks who certainly do not mind pounding that hot jock pussy. Sure, butts are tight but imagine how tighter a transgender's pussy is and that is exactly what Luke Hudson wants you to know and see. The sex is intense and is mostly raw. It does not matter where, because Luke and his toy boys are always up for sex in any location. His partners are not to be taken lightly as well since they seem to be real athletes – at least portrayed as one. This rather lewd porn site was launched just recently in 2016 but it has been recognized plenty of times already.
Features
JockPussy has a black, white, and gray color scheme and the site design seems simple, to begin with. Of course, simplicity would mean that there is more to explore than just the surface. JockPussy is pretty new but the site features they present to their audience are rather commendable. With a very easy navigation system and a site interface that is beneficial in all aspects, your time in here will be as convenient and as straightforward as ever.
Overall, the site has an organized and user-friendly layout: something most sites cannot seem to attest to. Links are found on the top menu bar, just below the site logo found on top. As simple as it gets, even the browsing options are also easy to use. Then again, you get various options when it comes to finding or searching content. There is no advanced search bar, but you can scour the video collection using keyword tags and by using the pagination link. You can also seem to sort out videos using their dates and titles. You may also check out the entire page by clicking on the videos' link and skimming through.
In the main page, you get to see the latest uploads they have, and in each new upload, you get a teaser video thumbnail, and on the side, there is a write up that would describe the video you are watching. The description is very vivid, so you can plant in your head what you would expect. Each scene is also titled, with the name of the models present. The tags are generously given, so you know exactly what kind of fun you are getting into. You will also see the overall rating of the site.
Content
JockPussy is all about Luke Hudson and her tight 'jock pussy.' You might think this is some sexual innuendo, but it is not. It is the real and literal thing and the athletic jocks that seem to enjoy it cannot get enough of it. The cocks are ever present in Luke's partners, it is just that you will not be getting just the butt action. A lot of 'pussy' ramming is under way, but that is not the only thing that makes the site a tad bit special. You can see Luke wearing a strap on in a few scenes, and he does the fucking in here. In most times, you can see Luke getting all the pounding but in all the scenes, you could see how both parties enjoy the attention and the hardcore sex. Often, you see twosomes but in other cases, a threesome seems to make it to the stand.
Conclusion
The site is new so there is not much to see here at the moment but updates have been freely flowing in quite fast over the past few months so you could expect the site to grow positively in the coming months. The qualities they present their videos in are marvelous and the features they have are notable. The guys are frankly handsome and have great bodies, considering they are portrayed as athletes here. All in all, JockPussy is something that I would recommend right away and without second thoughts.
Return to the other paid porn sites or read more about Jockpussy from other popular porn review sites.