Enjoy3dporn Review
Enjoy3dporn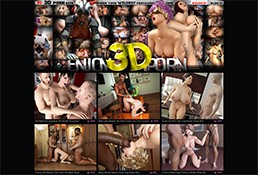 Price: $38.40 (30 Days)
On the Enjoy3DPorn you are going to find not just hot girls in hard action, but there are a good quality and a high level of professionalism.
00000
Enjoy 3D Porn Website Report
Intro
The Enjoy3DPorn is up for inspecting today, so let's just get into the middle and see what it can offer to you. The first thing you are going to realize it that it's not a regular porn site and the 3D doesn't mean that you need 3D glasses to enjoy the scenes. The Enjoy3D porn has a collection of 3D computer-animated hardcore videos. These shots come from different studios, and they are quite fun. It seems that hentai porn is taken to a new level, and with the 3D animation technology, the fantasies became almost realistic. During our data collection for this review, we found that the Enjoy3D porn is a rather new website, and it's only about a year or two years old. This made it a bit harder to dig up info, but we managed to do it, and what we found is quite promising.
Features
The home page just lists the videos, with some additional information about their length, rates, and a title. After signing up, you will see an easy-to-use interface, consisting of the main menu with all the options you need. Since at this time there are only 50+ scenes, you won't need any advanced tools, but they might come later. Every video has a title, and if you open their page, you can start watching them. There is an option to choose the streaming quality, and the same is available for the download options. Since we are talking about 3D videos here, it's just expected that they are all in HD. During the time of our visit, 720p was the highest available resolution, but we believe Full-HD isn't too far away. Every scene at the Enjoy3DPorn is in MP4, and with unlimited downloads, you can save all you like or all you see. You can leave your comments and ratings on the videos, and they also have some description to clarify the situation.
Content
As 3D technology gets more and more advanced, the video games and 3D videos became even more realistic. However, the people who created these scenes asked themselves: "we have a fantasy, we are horny, and we are good in designed bodies and write short stories. So, why the heck we should we make 3D porn look like it's real?" With this kept in mind, the horny and talented people warmed up their 3D video maker programs and created women, guys, and creatures that are far from looking realistic. This, in fact, gives a nice level of variety to this fine collection, and as you are going to see, the actions taking place are also everything but not realistic. Most chicks you are going to see here have huge tits, and they are always ready to get double or even triple penetrated. There are Asians, Black and of course Caucasian girls, and the guys are also quite different. The guys sometimes are not even real guys: robots, creatures (e.g. werewolves, vampires, creatures for far off-world or from another dimension).
What we found quite intriguing is the large number of transsexual models. It looks like some of the artists who created these videos have a thing for girls with cocks, and they let their fantasy rule over their sense and control their hands. The length of the videos is quite varied, so be prepared to watch hardcore 3D porn scenes going on for only 5 or fewer minutes, while you could also find real scenes, going on for nearly 20 minutes. The voiceovers are quite good, and though some videos are silent, most of them have some voice. If we can trust our experience, we would say that most voiceovers are done by Japanese girls (you know, that high pitch voice that sometimes sounds like birds' chirping).
Regarding the events taking place in the scenes, you should get ready for the hard and sexy ride. There are scenarios in which two guys take on a girl and bang here in every possible hole, while some gangbang-like sessions also happen. Some scenes feature only solo action, in which the girls show their body and fuck themselves with a huge dildo. The tranny-themed videos usually about trannies fucking girls; it seems the artist wouldn't go that far to make trannies drilling guy scenes.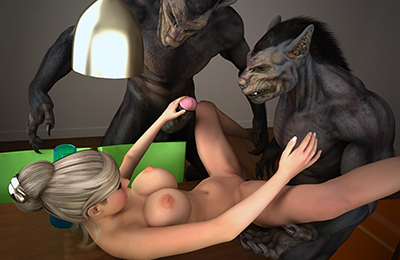 Conclusion
As a member of the Enjoy3DPorn, you are going to find yourself overwhelmed with hot, sexy material which you can use to satisfy your dirty needs. This is a new, truly special niches, and it's not common, so if you are interested in hentai, or other animated porn, you should take a closer look on this unique hardcore porn site.
Look at the other top pay porn sites or read more on Enjoy3DPorn.