Slimewave Review
Slimewave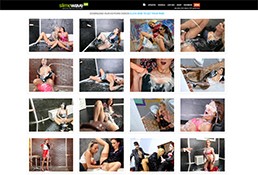 Price: $29.95 (30 Days)
This kinky and quite weird porn collection grants you access to a large number of videos with gorgeous women and lots of slime and sex.
00000
Slime Wave Website Report
Intro
On the SlimeWave, you are going to find some…well, let's just say interesting videos. These scenes cover glory hole action, but instead of real cocks being featured, there are fake cocks, and after the girls suck and fuck them long enough, these fake things burst a huge load of fake cum on their faces, into their holes and all over the room. It's kinky, messy, so if you like it, head on to the members' area. We loved the videos, especially the hardcore ones, though the slime action did not deem to be satisfying for everyone. Nonetheless, in case you like messy porn or you are in the search for something different, then it's a fine choice.
Features
The tube home page of the SlimeWave doesn't offer too much of a tour, so you have to gather the information and insights on the videos by the thumbnails and gifs placed on the home page. Clicking on any of the pictures takes you to the signup page. Fortunately, if you log in, you will see a well-designed and nicely built website. The most important menu options are located on the top, where you can find the link to the models' index, such as some other things like the third party offers, the upgrade options, and the live cam show site's link. A search field and a Best Rated list are offered to make it easier to find the hot stuff you want to watch.
You have the option to rate and favorite the videos. As far as the download options are concerned, there will be three options: Medium, High, and HD. The Medium is a Standard-Definition file, while the other two are HD and Full-HD. These three options are offered for streaming too, so if you encounter issues with your playback in the browser, you can set the quality lower. Also, there are photo galleries for the flicks, offered in cute zip files for more convenient download. The membership on the SlimeWave does not contain any bonuses, so if you feel like you would like to browse other types of porn too, maybe you should check our review of the Tainster and see the big picture of yourself.
Content
There are only professional pornstars on the SlimeWave. As you open the page, you are going to see that the video quality – well, at least the picture's quality – is quite good, so it's possible to see the models in their full potential and beauty. Since we are talking about porn stars here, you can expect a lot of overplaying and overacted pleasure, though the surprise on their faces when the slime wave just doesn't stop seems to be quite real. This is unlike their tits: most of the models you can watch performing in the SlimeWave videos usually have fake breasts, and there are also bubble butts and some girls have enhanced lips too. Nevertheless, this site with literally juicy and slimy content has a few of the hottest porn stars you could find, and they might have fake tits, but their overall appearance is just crazy and sexy.
We were satisfied with the number of Asian and Latina models, and in case you are looking for sexy Black girls in slime and gloryhole action, you should not worry. The videos are surprisingly long: they usually take as much as 20 minutes, and there is barely any that could be closer to the 10 minutes' mark than the 20. So, what exactly we are looking at on the SlimeWave? Well, the 95% of the videos feature glory-hole action, usually of the solo kind. Each of these videos features shots of a material which is lubricating and is seemingly edible: this is the slime. The girls do things with this slime, such as covering themselves with it, let it fill their holes and they, of course, masturbate a lot.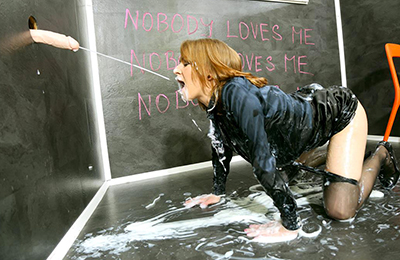 Conclusion
Well, the SlimeWave would probably win a prize for being a weird, yet satisfying hardcore site. This content seems strange at first, but if cum play or wet play are your niche (and you don't mind it's all fake), then it's going to be one of your favorite porn sites. When you join, you gain access to all videos of this site, and that's alone quite awesome. So, come on in, but beware: slippery content ahead!
Look at the other best porn sites pay