Ultimatesurrender Review
Ultimatesurrender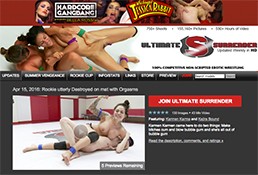 Price: $29.94 (30 Days)
Ultimatesurrender satisfies all urges, both the sexual ones and the competitive ones. It has never been more fun to watch female wrestling competitions than until now.
00000
Ultimate Surrender Website Report
Intro
If you want to explore a whole new fantasy that no one has thought about until now, Ultimatesurrender is the perfect website to do it. It is a website based on the idea of completely unscripted erotic wrestling between hot female athletes that love to make the loser pay with screaming orgasms. I liked the fact that, however, you look at it, everyone wins.
Features
First of all, Ultimatesurrender has some great and fun new features, such as the championship events they organize. With Summer Vengeance and the Rookie Cup, their show their fans that they take the competitive aspect very seriously. The website has a great design, giving you sporty vibes with the colors that they use: dark red, white and grey. The layout is very professional and overall the website is easy to navigate and a real pleasure to explore. In the model gallery, they also provide stats for each girl.
Content
The girls on ultimate surrender have it all: sex appeal and great athletic skills. This whole sport was invented solely for the viewers' pleasure and the models do everything to each other: toys, oral and more. They are beautiful and sporty, with great faces and big smiles. More importantly, they enjoy what they are doing and that comes through in all of their scenes. The hardcore orgasms all seem real, which is another quality that Ultimatesurrender has. By clicking on each girl, members can see a lot of info about them, such as their height, the class they compete in and where they are from. Ultimatesurrender also provides info about each girl's stats and they are rated as follows: wins and losses, style, shame and toughness points, the number of submissions and her power rating.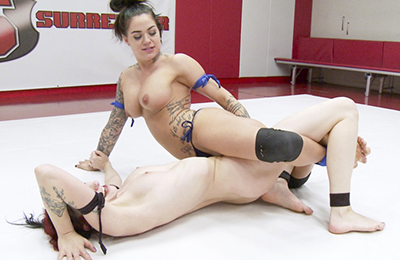 Conclusion
This creative spin on porn and sports takes their content to the next level and you will surely be impressed with the skill and sexiness of their models. It's hard not to get really into it.