Twinkclinic Review
Twinkclinic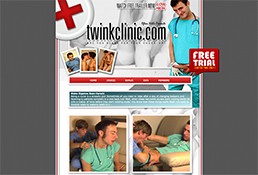 Price: Free (Limited Time)
The scenes are not boring at all and they are shot with perfect camera angles to capture these pleasure moments.
00000
Twink Clinic Website Report
Intro
Twink Clinic is about good quality gay scenes with a hospital setting. You can expect some handsome doctors and male nurses getting naughty during the breaks and having time of their life. Apart from them being handsome and having hot, ripped bodies, these twinks also know how to fuck. They take their time to suck on each other's cocks and penetrate their tight assholes with condoms on until they cum.
As far as the design of the site goes, I am confident that you will love it because of its simplicity and cleanliness. And since there is no overcrowding, finding what you want will be much faster and enjoyable. Twink Clinic has got some very hot guys who have been carefully selected. And since they are all different, you will most definitely be in a position to find one that tickles your fancy. There are also some hot categories that you need to look forward to including masturbation, anal fucking and remarkably addictive blowjobs.
Features
Downloading or streaming your favorite gay videos on Twink Clinic has been made flawless. If you love the hot, high-quality video of Sean Corwin and Blake Bigalow kissing, touching and sucking each other off and you want to stream it, the in-browser flash player will surely come in handy there. Downloading, on the other hand, the MP4 format will always have you covered at all times. The playback is also excellent and will more or less have you smiling since there is the minimum to no buffering while streaming.
If you love the kissing or the slow, sensual and effective blowjob showing the huge cock being pleasured over and over again, you can use the excellent playback feature. The latter will allow you to jump right back to where it all started and relive the moment all over without any cases of annoying buffering. Joining Twink Clinic will also give you the opportunity to access 16+ bonus sites such as BoysCasting, ClubHunterWylde, Bareback101, and CrotchBuffet. These bonus sites have got different approaches to gay fucking that are interesting to watch. For instance, BoysCasting is all about fresh-faced guys looking for an opportunity to be cast in a gay porn film for the first time. And they end up sucking and fucking the interviewer in POV who also happens to not only have a big, badass cock but knows how to use it.
Content
Twink Clinic made me appreciate the casting of hot, horny guys in high-quality, superbly directed gay porn scenes. With each scene having a pair, which seems as though it was made in heaven, these twinks in scrub uniforms always fuck to impress. They take their time to make sure that they are kissing as passionately as they can right before slowly strip down and then start with the fucking. You can also find some of the guys that have got well-toned bodies, some with abs and gigantic biceps that will always catch your attention once they go naked. The fucking is usually slow and sensual and judging from the moaning, you can rest assured that they are also enjoying.
Apart from their perfectly hard bodies and handsome faces, these hot gay guys do have big cocks some of which are veiny and have the girth at the same time. You will have the chance to watch them fucking each other in different positions whether in a locker room or office. They do have different hair colors and also different haircuts. Some of the hot guys include Austin Parker, Jesse Jacobs, Kayl O'Riley, Sean Corwin and Blake Bigalow. For the members to have a blast as they watch the guys on the Twink Clinic deep throating and taking hard cocks in their asses, all of the videos have very high-quality. Beside each video are the photos of the different stages of the sex, which you can peruse and see whatever goes down in there.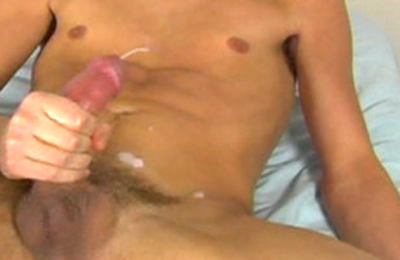 Conclusion
Whether you love gay sex or not, I am confident that you will be impressed once you check out Twink Clinic. Like I mentioned earlier, the site is very clean and well organized, with each video being of high-quality and having all of the information that you need to know.
Look at the other the best premium porn sites or enjoy more on Twinkclinic from other popular porn review sites.