Tryanalfisting Review
Tryanalfisting
Price: $29.95 (30 Days)
The fisting actions are solid and authentic as the girls manage to take the pleasure with eye tearing moment. The scenes amaze me on how anal penetration actions take it to the next level.
00000
Try Anal Fisting Website Report
Intro
You will never watch hardcore anal action again when you log on to a TryAnalFisting porn site. The action is pretty much taboo with lots of ass fuck actions. But, that's only the beginning. These lovely ladies are willing to do anything for anal pleasure as they bend over, lay back, lift their legs and prepare themselves for something wild. There are lots of anal actions you might have watched lately. But this time, what if I told you that you would put those damn anal actions to the softcore category after you see the materials here in this particular site. It is insane enough to destroy someone's rectum but as the name implies, the girls were just enjoying and fisting.
Features
If you've been in so many porn sites before, you probably already know the word fisting when it comes to horny terminologies. If not, then I can say that you are just a newbie. Fisting is an act of sticking the whole hand including five fingers and the palm into someone's pussy or butt hole. It is horribly stunning yet fun to watch as these girls push their limits just for porn film pleasure. There will be lots of luscious lesbian hot chicks inserting not just one but two of their fists into a normal size of butt hole. I don't know about them actually but I find it very insane.
Most of the girls featured on this particular site are lovely and I can't believe that despite those innocent looking faces, the hunger of fist penetration is inevitable. There are no puny limp dicks included on this site. All the action is fingering, masturbation and fist inserting. The girls would love it though as the lesbians will make sure that they deliver pure penetration to their bitches. Touring the site is not an issue and I like the way the materials were presented. The videos are available in thumbnails that feature the duration of the film, a fine description of the action, the names of the gals and date.
Content
Now for girls, well they are hot, beautiful, sexy and fuckable indeed. It somehow amazes me on how these bitches insert their entire fist into the normal size butt hole. It is a rectal opening that I could say it's too good to be true. But, there are no camera tricks, graphics or whatsoever. I love seeing those chicks getting banged with another chick using fingers or dildo but these actions are far from over as the girls will put their legs up as much as they can and here come the fists penetrating their asses. There are also fist vaginal penetrations by the way and I got two words – that's insanely cool (okay three words). Anyway, there are lots of naughtiness and butt penetration delightfulness.
There's a particular anal penetration action which I love to watch. It's a three-way anal penetration by the way and I'm pretty sure that you are going to love this also. Three chicks were having fun at the outdoor until the horniness inside of them just snaps and guess what, they finger each other's pussy and do lots of torrid kisses. There will be nips kissing, sniffing and licking and lots and lots of moaning as well. Now, things get bad to worse as one chick decided to get a lubricant. This is where the fisting goes and you might wanna like it. The first chick, the blond one will lick and sniff the ass as she begins to finger the ass for warm up I guess. Now here comes a rubber dildo which somehow amuses me but not until the fists come in. I'm not exaggerating things up but I can say that that's a huge butt hole. It's a jaw-dropping experience which changed the way I view anal sex.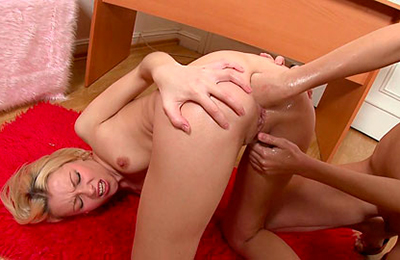 Conclusion
There are materials from the site that will turn you on so badly, but there are also things that seem to be illogical for me. Just imagine two fists inside the butt hole made me crazy. As for the numbers they provide would be a total turn off, but with the quality of the films, how they deliver the materials exclusively and perks, I can say that the price is right. For lesbo anal penetration hardcore action, you can never go wrong with this one. It's pure, it's fresh and it is hot.
Look also at the best porn sites pay or read more on TryAnalFisting.