Transerotica Network Review
Transerotica Network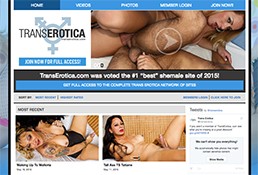 Price: $24.95 (30 Days)
These transsexuals put on the most epic show. They will leave you at the edge of your seat as you will wonder where they learned all their skills from.
00000
Trans Erotica Network Report
Intro
TransErotica was voted the best shemale site in 2015. It is an adult site that comprises of the best variety of shemale performers who bring the action that is to die for. There is no doubt that this site has been able to conquer the transsexual entertainment niche after only a year of existence. The action is dirty, just the way we like it and as quality is everything to go by, TransErotica is truly at the top. There are many porn sites that start big but then are quickly forgotten in time. TransErotica does not appear like it will be slowing down anytime soon.
TransErotica is better than most transsexual porn sites that are found on the virtual platform. The site is under the OCCashNetwork. It may not be as famous as other A-level networks that are popularly known, but it has been able to host successfully some tranny porn sites that are highly thriving. TransErotica is not an exception. It currently has 234 scenes and this is more than can be said for many long-existing porn sites that hardly grow. Members will also get bonus access to two sites.
Features
If you have been looking for an amazing Trans porn sites that deliver on content and features, this is it. Apart from the beautiful trannies, the next thing that you will notice about TransErotica is that it has a simplistic design but the most outstanding features that will help you to get easily around the collection. First things first, the site introduces itself as the best shemale site of 2015. If you did not already know this, you would be pleasantly surprised.
The white background makes the site plain but then again it is beneficial because it ensures that you are totally fixated on the content. There aren't any destructions here. There is a list of videos preview that has been systematically laid out in the center of the page. It is easy to keep up with the update schedule as all of the videos have an upload date. Considering the fact that TransErotica hosts other sites, you will be able to see a few advertisements, but these do not clutter the pages. The site is also directly linked to its Twitter page and through it, you can always keep updated with the latest or goings.
Content
When it comes to the provision of good content, TransErotica does not play. All the transsexuals who are featured are truly exceptional in their skills. Their bodies are to die for. As the society believes that transsexuals are the kind of women who struggle with their sexuality, it is amazing to see how confident they are in their skin. Their cocks are big enough to stroke your pussy to multiple orgasms but then, they often prefer bareback sex from men who want to have a sexual experience with them. The trannies love exploring with women too. Either way, they will make you cherish every moment with them. Regardless of whether they as getting fucked by the poolside or on their beds they still do it with the same level of gusto.
There are blondes, brunettes, and even redheads. Therefore, there is everything for all of us to enjoy and lust after. From the scenes, you will meet Nikody, Natalia, Paola and Geane. Their boobs are definitely silicone filled and their bodies are slender and athletic in nature. These trannies have their make-up on point thus, you will fall in love with their gorgeous faces. The scenes also feature porn stars like Tyra Scott. If you thought that you knew everything that they have to offer through seeing her on other platforms, then you got another thing coming. It does not matter whether they are featured in toy play or full on sex scenes, they still bring you their ultimate best.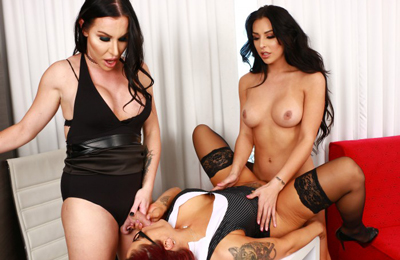 Conclusion
TransErotica has a decent number of flicks that are sure to entertain you. The frequency of updates makes it a site that is dependable and reliable as far as entertainment is concerned. The sexy hardcore is all that you have wished for and more. Sign up today and find out what we are all raving about.