Theydrunk Review
Theydrunk
Price: $1.00 (1 Day Access)
The TheyDrunk is a hardcore porn site which offers sexually explicit videos of hot girls, who are having lots of shots of vodka. When the drink starts to warm them up, they usually feel the heat rising in their panties, so they start taking it off… and that's when the things get a bit blurry and hot.
00000
They Drunk Website Report
Intro
Don't get it wrong, though, the videos are not blurry, in fact, they are in HD. The site isn't the newest one around, but it offers a good collection of more than 260 videos, each running for nearly half an hour. If this number doesn't seem so big, then consider the length too: yes, it will keep you busy for a good time. Now, those who always want more and nothing is enough for them; the site has some extra stuff provided too. There is a whole network of sites that you can reach as a member, each covering different niches, and each offers hot European (mostly Russian) girls in nasty situations.
Features
The site has a simple layout and a nice design. It's not too dark, but also it isn't shrill. The tour is very short: apart from a few pages of the videos, you don't get any further insight. Each piece of the list features some thumbnails, a description of the scene, along with the participants' names and the keyword tags. When you log in, you will find yourself in an utterly simple website. You can't get it wrong it's so easy to use. The main menu is on the top, and it offers a bit of basic sorting: you can select to list all videos, or just choose from the Hardcore, Softcore, and Lesbian lists. You can also get to the bonus content from this menu.
All scenes are a streamed as Flash videos. They offer an average quality, and though the scenes are long, due to the quality they load up pretty fast. After the video starts, it buffers a bit, and there may be lagging, but when it loaded forward, you won't experience these things anymore. Every video is available for saving too. Most of the scenes are in MP4 format. You ought to find yourself surprised to see that many scenes offer actual HD resolutions. If you want to watch the videos in the best quality possible, you should go with the download because it's well worth it. Not just for the video resolution but the amazingly hot sex in the scenes. You can also find some photo galleries on the site, though the videos' number is much higher. These photos are available for in-browser viewing only.
Content
It's hard to categorize the videos of this site. It would be a safe guess to say that these are closer to the reality-porn than to the true amateur. There are a few reasons for this opinion. First, the scenes are staged, yet not scripted, and the whole thing is captured by a third person; probably a professional. Second, the girls seem to be amateurs, and the guys aren't so monstrous in their pants. The category is only one thing.
What matters is the actual content isn't it? So, as you might have already guessed there always a kind of party going on: a couple of drinks or sometimes a group is featured. After a few shots, the real party begins. The couples usually get on with it hard, and it seems that sometimes the girls just don't know their limits, and in the end, they are just lying there while they get drilled in the ass. It's natural that the group parties are going to turn into hardcore orgies, and you can see multiple couples having sex, with some swinger elements included. The videos are rather long; their average length is 28-30 minutes.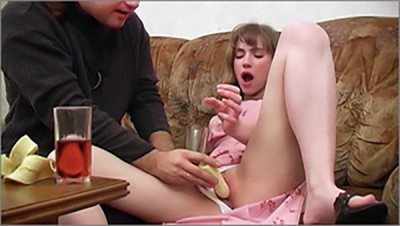 Conclusion
The TheyDrunk is another interesting site from the far country of Russia. Well, the country might have been an enemy in the past, but it's undeniable that they have gorgeous girls and unique approach to porn. This site proves that there are no limits when it comes to home parties in a country where they drink vodka like water (it's just a stereotype). The girls in these videos are hot, and the sex is arousing. If you like these European girls, you might also like the others who appear on the network sites. It's a neat collection, and if you enjoy watching hardcore porn, then you should certainly give this site, this network a shot.
This site no longer exists. For similar content, please go HERE
Return to the best premium porn sites