Theupperfloor Review
Theupperfloor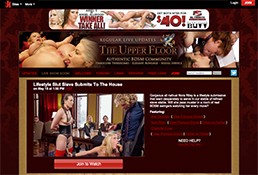 Price: $29.99 (30 Days)
TheUpperFloor is a celebration of a lifestyle of sexual slavery and dominant men/women making incredibly hot chicks their personal pleasure machines for sexual gratification.
00000
The Upper Floor Website Report
Intro
If you are new to BDSM or are looking for quality whipping and spanking this is the place for you as members get access to live shows and a huge number of sexy videos and pictures.
Features
The website is beautifully designed. The backdrop is red with lovely intricate patterns. The site is divided into various parts. The homepage shows the live cams, latest updates. There are many live cameras around the Kink castle to be enjoyed. There are free cams also. The link section lists links to the huge array of content available at TheUpperFloor and other Kink sites. There is also a preview section to quickly get glimpses of their offerings.
The forum at TheUpperFloor is an interactive way to be a member of the BDSM lifestyle from the comfort of your home. The director's blog is also very good. The members can discuss individual videos and give their personal feedbacks in these forums. Navigation may be a little frustrating at first. But after one gets used to the site, it is very intuitive indeed. The website is seemingly vast. The amount of content and text one sees may be confusing at first but it all becomes one pleasurable experience later.
Content
TheUpperFloor is a live fetish reality show that celebrates the BDSM lifestyle. Cruel masters make playthings out of their sex slaves and mercilessly spank them, whip them and tie them up for the maximum satisfaction of the viewers. Inspired by the literary piece "The life of O", TheUpperFloor brings you a wide array of sex parties, fetish events, and other attractions. The Kink is the leading producer of fetish porn. At TheUpperFloor, they try to portray a lifestyle of sexual decadence for their viewers. For this, they use the most stunning girls of all race and body type. These girls sometimes become sex slaves and do unspeakably debauched things on the whims of their masters. Sometimes they take the whip in their hands and mercilessly dominate over someone else.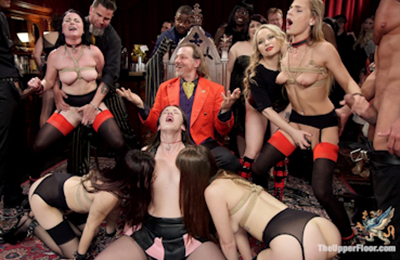 Conclusion
BDSM is what you need if videos of vanilla sex don't do it for you anymore. TheUpperFloor's unique collection of sexual slavery scenes and picture galleries and their interactive website are very attractive indeed. Head over there today and obtain membership to explore the world that is sure to blow your mind.