Swallowed Review
Swallowed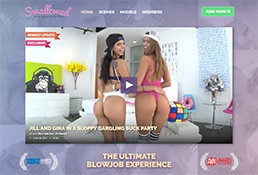 Price: $24.25 (30 Days)
The content on Swallowed is 100% exclusive and can only be enjoyed through full membership. Everything looks tantalizing!
00000
Swallowed Website Report
Intro
The only contests that you may have attended in the last five years may have been food contest. You were most definitely excited you to see how much food the contestants could swallow. Well, it is time for a brand new perspective. If you have been craving for some sperm action then Swallowed is a site that will meet you at your point of pleasure. Granted, the beauties are not eating any food, but they are showcasing their sperm swallowing skills. And from what you will see, they are indeed chugging masters.
Features
Swallowed has a basic design. However, it is highly unique because of the content that is presented as part of your tour. Let me just say that you will be smitten from the get-go. The models are gorgeous and hungry from some cum. It is almost as if they have not eaten for five days straight. All of the videos on the site showcase some them indulging in oral sex. Some of their throats know no boundaries! Every video has an exclusive tag simply telling you that you should sign up as a full member before enjoying the full version of the action.
When it comes to quality, the collection will not disappoint. All the videos are crystal clear, as such, you do not have any blurry moments to complain about. The scenes clearly tag the respective models using their names and creatively describe the action. For instance, 'Best friends gurgle cum' already gives you a great idea of what the scenes entail. At the very top of the site's page, you will find many categories that hold all of the content on the collection. There is the 'home' tab, 'scenes' models and 'members. You can be able to explore to your contentment.
Of course, the first thing that you will see is the newest update followed by other scenes on the site. As all of the videos are tagged with an upload date, as such, you can easily tell that this is a growing collection, seeing that the last scene was uploaded on 21st January 2017. It is clear that Swallowed is in business. All of your viewing moments here while be wonderful and filled with so much pleasure.
Content
All of the models are truly captivating, so where do we start? If you love a bunch of girls who are not afraid to go the extra mile to get pleasure, then you will be spending time here. As they love sharing cocks in pairs, you will be at the edge of your seat watching Dahlia and Channel exchange spit and cum after indulging in some deep throat action. Both of the models are delighted to have a chance to partake in the sticky cocktail. The male model being 'catered to' definitely feels like he is cloud nine. After all, it is not every day that we would have two cute girls fighting over our cocks.
They suck and suck as if their life depends on it. Amidst the action, treating you to some lesbian make out sessions. However, Channel and Dahlia are not the only models that you will be seeing. Amara and Tiffany are also best friends who enjoy swallowing cum more than they would a delicious hotdog. The blonde and brunette combo will show you that they are capable of pleasuring you in ways that you have never been before. Before they 'get busy', they will show off their assholes and pussies, exciting you to the extent of wetting your undies with sexual juices. When the models are not swallowing cum, they are sharing some saliva.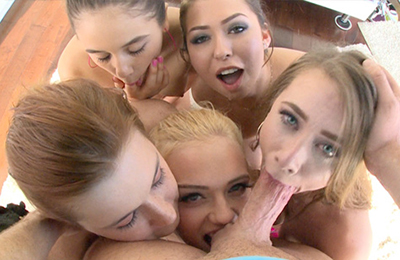 Conclusion
For the best cum swallowing, lip-smacking and protein-rich action, swallowed has opened its entertainment doors wide open for you. All of your viewing moments here will be highly enjoyable. Sign up to the site and treat it as the precious community that it is. The models will teach you to appreciate all of the pleasures of life. They are ready to cock it up and take in all the goodness. Of course, you will be watching them in a crystal clear splendor. Swallowed is truly the best.
Look at the other best porn sites pay or read more about Swallowed from other popular porn review sites.