Silverstonedvd Review
Silverstonedvd
Price: $2.95 (3 Day Access)
You can access about 5-6,000 videos with your membership. The quality is ensured since several award-winning models and directors have their movies on the site and in the network.
00000
Silverstone DVD Website Report
Intro
This mega-site has a large collection, which you will certainly enjoy browsing, and while you are in there, you can access the work of some of the biggest names in the industry. It's only 10 years old, but the site itself has about 250 DVDs listed, with over 1,400 scenes, and this number grows with 1-2 with every passing week. We know that on its account it doesn't look like a big collection. But, there is something you should know, which is a fact that made us call the site a mega one.
The SilverstoneDVD's membership grants you access to 28 hardcore porn sites. These are hot portals with amazing content. Just to mention an example, you can browse the FameDigital, which alone offers the content of more than 1000 DVDs. Among the included sites, you can find star-focused ones, like the portal of Rocco Siffredi, Silvia Saint, Tera Patrick. There studio-related sites like the FameDigital, DevilsFilm, LowArtFilms or the DevilsFilmParodies. All movies of the SilverstoneDVD are exclusive to the site – most of them were published on DVD.
Features
The SilverstoneDVD's technological background is provided by the Gamma Entertainment, which means that it uses the same built that over 170 other portals. This doesn't take away from the value of the site, but for an experienced porn fan it makes it easier to navigate while a newcomer can easily learn to use it – and by doing so, he/she becomes familiar with the use of other portals. The tour has the following features: preview trailers to watch, site statistics, and menus to browse through the content.
Once you get in, you will see that the layout is consistent, and the design remains the same. Anyhow, the site looks professional and works like a charm. A quick menu can take you to the bonus sites, and a Categories menu is what you can use to sort the scenes. The newest scenes are granted in MP4 format while the older ones might be available in WMV too. Under the player window, you can see the download options: lots of qualities to choose from. If you want, you can enjoy the videos in the browser in different qualities, maxing out in 540p.
Content
The SilverstoneDVD is one big bad compilation of hardcore porn, featuring over 1000 different pornstars and starlets. To be exact, there are 1077 models in the videos on the site at this time. As you browse through the list of girls, you can see that they are varied, and they are mostly professionals, who know how to handle a cock – though sometimes they have hard times sticking in some of the stiff, large dicks these guys have. Every girl is over the right age, so everything here is fine and right.
You can find here hot girls, who just became adults while hot MILFs and cougar-like women also appear in the scenes of the SilverstoneDVD. For example, the latest addition to the site (on 02/27/2016) has two hot models, whom you've never seen before. Delilah Strong and Yasmine Milan are barely adults, but they take on a group of guys in this scene. One is a brunette, the other is blonde, and their pretty fresh face looks nice – especially when they kiss and do some cum-swapping. As the other type of girls is concerned, you can find here videos of Tera Patrick; but Asa Akira is also a returning actor of the studio. These two names are well-known among the porn viewers, and when they start doing what they are good at, the world stops, and every move they make brings you closer to a hard climax.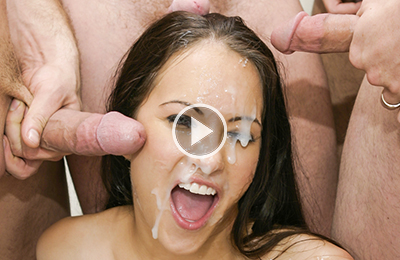 Conclusion
The SilverstoneDVD is one of those portals we warmly recommend to our readers. This site has all it takes to be a good one, and by saying that we mean it has many benefits: regular updates, hot sex, gorgeous girls and so many extras that a man can hardly handle them. You get it all for a reasonable price, and by looking at the videos, we can say that it's worth it, especially considering that with joining, you get more than two dozen extra sites to browse.