Sex-Depot Review
Sex-depot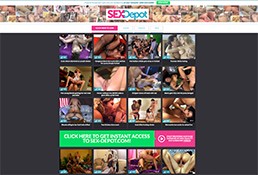 Price: $1.95 (2 Day Access)
The site doesn't have its collection, but it does have a large selection of porn for you to watch, ranging from fine US porn to European kinky sex. You can find gangbang, bisexual porn, lesbian sex, interracial and ethnic sex too. Double-penetration is quite common, and anal sex is quite usual to happen.
00000
Sex-Depot Website Report
Intro
The SexDepot is a new porn site, which has a lot to show you. Those who enjoy watching hot girls getting banged will certainly love to browse through this collection. This is a new site, and it seems to be a "mega" one. We weren't able to get much information about it, but we used our resources and charm to find out what we can. As far as the "Who runs the site?" The question is concerned, we can report that it's a good company. It's the Internet Entertainment LLC from Michigan, run by Ed Dooge – he is responsible for the LotzaDollars program. These bits of information weren't hard to dig up. It seems the domain was registered in 2013, but since this is the first time we met this site, we say that it has been online for only a year or so.
Features
When you open this site, you will see that it has a fresh design, and the overall impression you get is going to be positive. The tour on the SexDepot won't take much to do, but it's quite satisfying. Though there is only one preview video, you can browse through the whole list of the videos: there are page numbers on the bottom, and you go through the scenes page by page. We gave on the 72nd page. So, it could take a lot of time, if you want to know what you can get inside.
The members' area is going to be a fine page to browse. The content is tagged, thus you can easily find what you are looking for. As far as the actual features are concerned, you will see that you can save the videos or enjoy them browsed into your browser. Most MP4 files are granted for downloading, however, the oldest flicks might come in AVI or WMV format. The videos' stream is awesome and it's fast, so quick-jerkers can have their fun with it. Also, the photos and the vidcaps are looking good – the latest videos are coming in HD and Full-HD, thus their video captures are very good-looking.
Content
Well, the SexDepot is a depot, where you can find not just sex, but also a lot of hot chicks doing hard sex. These girls are coming from the professional arena mostly, but there a few fresh faces too, who seem to be just broken in into this field. When you start exploring the collection of the SexDepot, you will see that a large variety of models is offered, and there are so much and so varied hot cunts to view that you won't get to the end of the list too soon. For example, there are gorgeous Ebony hotties, who have some fine luscious breast, and there great Nubian booty is something you should worship. And they are doing some sweet hardcore and lesbian porn too.
If you are a fan of Asians, and you don't care about if it's Japanese, Korean, Chinese or Filipina, then the site's models' list will certainly make you horny and eager to get on with some cock-shaking. Those who seek Latina booty will certainly come to the conclusion, that this site has some prime specimen – big natural breasts, and amazing booty is what these girls offer, and a lot of shaking off that booty. And we can't pass by the cute and varied Caucasian hotties since they are the majority of these models: some of them are reality-porn actresses, and others prefer regular studio porn. Nevertheless, they are doing a good job in these videos too.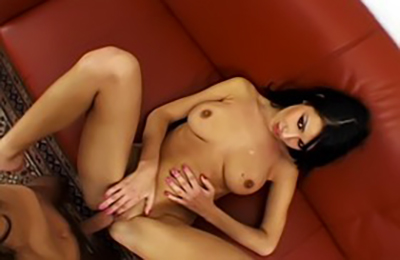 Conclusion
So, the SexDepot is what it claims to be: a fresh, expanding depot of hardcore porn. You will see that the scenes are much varied, and not just the girls and the sex is diverse, but also the quality – be ready for it, since the older scenes are in SD. It looks like the site keeps updating, and so the collection is growing. But with this huge compilation, the SexDepot is guaranteed to keep you busy.
Don't miss the other pay porn sites