Selfshot Review
Selfshot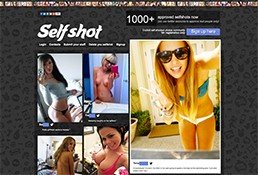 Price: $1.00 (2 Day Access)
If you are into social media, but you want to satisfy your craving for some fresh nudes that are taken by real people, then Self-Shot is the site for you.
00000
Self Shot Website Report
Intro
Everyone uses social media like Twitter and Facebook to update friends and family of their whereabouts and what they were doing at those moments. Now and then some users upload provocative pictures or updates that may not be suitable for those social media accounts. There are viewers as well that would like to see real self-shot pictures that show parts of the body in a different angle that will make you horny. This is the idea that started Self-Shot, a Twitter-like site that showcases about 1000+ different explicit pictures of real people who were more than willing to pose for the camera and show people and subscribers of the site of what they have got.
Features
Self-Shot has a twitter like outline that gives you a social media account feel with a twist because instead of posting pictures of food, pets, clothes or establishments what you will get will be pictures of beautiful and hot girls with round breasts and perky nipples, girls whose pussies are exposed and sometimes they upload pictures of them holding sex toys or holding real dicks, some in which are inside them while some are just for the camera. The site uses Twitter accounts to make sure that the pictures are uploaded by real people, so then you will see bathroom selfies, dressing room selfies, car selfies and so much more. These are pictures you will usually see on social media but this time, it is without the clothes. You can choose if you would want to go on a 2-day trial, a 30-day membership or a 90-day membership and all of these are renewable.
Content
Self-Shot is a site that purely depends on how social media sites work, people post pictures and they are validated through their twitter accounts just to make sure that it is coming from real people. Statuses are also posted to update the members of what they were doing during the time the picture was taken. When you open the site you will see loads of girls whose tits are exposed with captions such as "bathroom selfie" or "hard nipples." There are those who post pics of them giving someone a blowjob or a handjob while others post still cuts of their amateur homemade sex tapes. These are thousands of gorgeous girls from Asians to Latinas, from blondes to brunettes, from bombshells to nerds, all of which are real girls with real accounts that you can contact on the site and exchange photos with.
Once you are a member of the site you will be able to access 13 of the other sites connected to Self-Shot, if you want to see some Asian action you can check AsianSexGfs, if you would like to see cum all over the face and tits of a stunning chick then they have ICumGfs, if you are into watching emo couples bang each other then you can click on EmoSexGfs, if you would want to see some serious sex toy fucking then you can check out GfSexToys, they also have BlackGfSex if you would like to see some big hard dick pounding a black wet pussy, PornLatina for those who wants to watch videos of Latina girls having some fun, TheIndianPorn for the those who would like to witness an Indian chick get fucked and of course for all the hentai lovers you can click on TheFutanari. There will be 3 more different sites that are soon to be revealed.
Conclusion
With over a thousand pictures of girls inside their bathrooms, taking pictures of their pussies with their clit exposed, or pictures of girls in their bedroom with their perky breasts and nipples focused on the camera. There are also pictures submitted wherein they are with their sex partner, may it be their own boyfriend, or co-worker or maybe a neighbour that they wanted to have sex with for so long, you will be the first to know about the latest happening in the sex lives of the people that you follow on Self-Shot. The most exciting part is that you can talk to them and exchange pictures with the beauty of your choice, you can send an arousing picture of your massive hard cock to the girl whose boobs and breast are your liking and you can watch as the connection unfolds between you two. All of the information submitted is secured on this site; it is proven by their thousands of members.
Go to the other paid porn sites or read more about Selfshot on other review sites.