Recordedgfs Review
Recordedgfs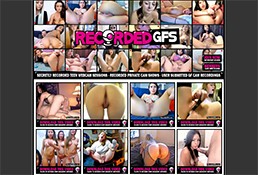 Price: $1.00 (1 Day Access)
There are girls with big boobs and perfectly shaved pussy that you surely don't want to miss. This does not mean that the slender girls are not appealing though. In fact, every girl on this site regardless of her physical appearance is oozing with sex appeal and charisma.
00000
Recorded GFs Website Report
Intro
One of the exceptional homemade porn sites easily accessible online, Recorded GFs contains a list of homemade porn videos, which feature amateur bombshells filming homemade XXX scenes inside the comforts of their house. This site, which was launched in 2015, has over 4000 hot homemade porn videos in its collection and it continues to multiply as many user-submitted videos keep on coming every day. If you have submissions, why not to try uploading it in Recorded GFs too?
Features
The site is a big site of homemade porn videos. From the site name itself, we can already tell that the site features a bunch of shameless girlfriends who own a webcam and apparently, these girls also enjoy filming themselves even in their most awkward positions. The site was able to show us all the twist of events that are happening in the collection. Even on the homepage, we already know a fraction of the scenes that are going to happen. The homepage also shows us the most popular videos in the collection and as well as the recently uploaded ones. There is also the list of the hottest photo sets on the homepage so be sure that you do not miss any.
Moreover, what the site could also offer is the useful set of tools for navigation and sorting. The site has a pagination for surfing the site. It also has an accessible menu bar, which contains the buttons leading to the homepage, the contents, and several other bonuses treat from the site. The sorting tools also allow you to sort the contents by date, by popularity, by artist, and by title. Aside from these, the site also has a rating and comment system where you can rate the videos and they will be ranked accordingly. You can also leave some comments if you want to give helpful insights for other members. You can also mark videos or photos as favorites and get back to them whenever you want to. Everything is accessible on a page in your member's profile. There are some advertisements that you can see on the site, but none of them are going in your way.
Moving on to the collection of the site, Recorded GFs has a separate section for the photos and videos. The videos of the site are already more than 4000. However, you cannot find a consistent length in the videos. Some videos are only one minute long while some are ten minutes long. When it comes to the video resolution, most of the videos are 800×600 with a bitrate of 800k. The videos are downloadable and streamable too. If you want to stream it, you can use the site's medium sized flash player. It has a handful of features such as having smooth playback, two to three seconds buffer, and allows users to jump ahead of the scene immediately. The videos are also tagged and belong to a category of their own.
If you want to download them, you can download them in MP4 format without restrictions. The photo sets on the site already reached 1500. Each set contains 15 pictures that you can also download individually or by zip. The sets are also tagged and you can also find them in the different categories of the site. The most recent pictures have a dimension of 900×600 while the old ones have a dimension of 600×450. These pictures are taken by an amateur, but I can assure you that even so, the pictures are all brilliantly shot. The lighting is decent and there's minimal airbrushing. There's a mix of indoor and outdoor shots here.
Content
The girls on this site are all amateur models who just submitted their porn videos in Recorded GFs. In some of the videos, a webcam is used to film, but there are some girls who use a decent looking camera though. There is a mix of ethnicities here and you will notice it immediately on the homepage of the site. Some girls are pearly-white complexioned while some are chocolate brown. Some girls have jet-black hair while some shine with their blonde hair. The body type of the girls varies from slender to average sized.
You will surely find a lot of interesting scenes in the collection. There are some girls who just can't get enough of sex. Some love to suck the cocks of their boyfriends, while some just want to sit like a princess while they get licked in front of the camera. There are also some girls who prefer to go solo in their videos. There are a lot of masturbation scenes where the girls make use of sex toys in different forms and sizes.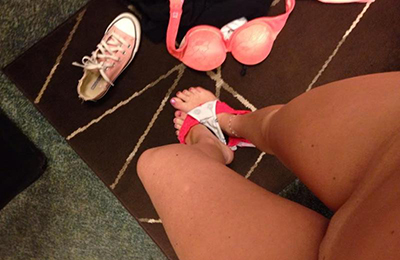 Conclusion
I like this site because it has a lot of amazing finds for a porn freak like me. I love to watch reality porn videos because sometimes, scripted porn flicks are way over the top. I wanted to see the genuine reactions of the models and hear them moan and scream without faking it. I have seen such a great potential on this site and I believe that other members have seen this potential too.
The site no longer exists. If you want similar content go HERE
Back to the other porn pay sites or discover more Recordedgfs from other popular porn review sites.