Realorgasms Review
Realorgasms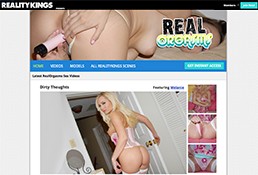 Price: $1.00 (2 Day Access)
Do not be afraid to take things to the next level because these amateurs are not. You can confidently hold this site up to the promises that it made during your first sign up.
00000
Real Orgasms Website Report
Intro
The one thing that is usually most challenging in the bedroom is whether a woman is faking an orgasm. Some simply scream to congratulate you for a job well done, but in the real sense, they simply want you to stop. To get a good idea of real and fake orgasms, RealOrgasms is a site that will prove to you what happens when things are cumming together. The platform is an all-amateur adult site that goes out of its way to showcase amateurs who are making themselves cum through the act of masturbation. The solo action will completely motivate you to take charge of your alone time. Playing with toys, fingering and teasing have never been so good!
Features
The first thing that you will see on the sites tour area is the latest updates. As on any other platform, these are the newly updated videos on the collection. From the look of things, RealOrgasms will not keep you occupied with new flicks because the site stopped updating but whatever the collection holds is enough to keep the site afloat for a very long time. That being said, there is a browse section where you can get the most of the collection. It is quite easy to maximize what the collection has to offer because the collection does not overcomplicate itself. The models' roster is where you can get to know more about the amateurs who will be pleasing you from scene to scene. Of course, they have a lot to boast about.
The photo galleries are also a delight because they hold great resolution photos that will give you some much-needed eye candy. Each scene comes with a description that will keep you in the loop of what is unfolding on the platform. In case you want to create a list of favorites, the site also lets all of its members' do so streaming and downloads come with a number of options that guarantee you great viewing at all times. The site comes with a lot of bonus action that you can access by the simple click of a link.
Content
The one thing that these gorgeous models on the site are not doing is faking their orgasms so that you can finally get off them and leave them done. If this has happened a lot to you, it is unfortunate to see how a real woman cums. Next time, you will know exactly what to do to ensure that your woman truly enjoys her orgasms. The models fuck themselves in every way imaginable and the fact that they moan and groan as they do it all immediately make you wet. The site's professionals were not playing when they called this platform RealOrgasms. Trust me, you have never seen such a grand finale. Even the Fifa world cup has nothing on the models on RealOrgasms.
The cumming is as real as it gets and even though these beauties are amateurs, they still conduct themselves with and aura of professionalism. Just as you would express yourself when you are almost squirting, these models show off their concerted faces that let you know everything that they are doing is completely satisfactory. They let their fingers do the walking and rightfully so; when the sex toy fails, they take matters into their hand. Madison is a girl who most definitely stole my heart for all of the right reasons. Her beautiful face and skills in between the sheets will enable you to fall senselessly in love with her. She strips artfully and gets make as if her life depends on it. For ten minutes, you will be at the edge of paradise while she is at the center of everything.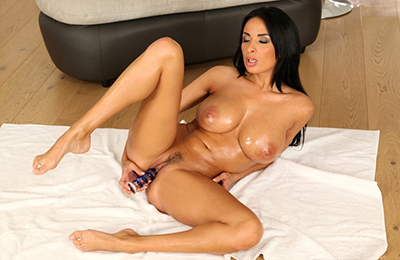 Conclusion
RealOrgasms is a site that will have you wrapped around the finger. Apart from the awesome videos, there are live cam shows with these very beautiful models that let you know even much more about them. The content is pretty decent and as such, you will not have any complaints as flocks satisfaction is concerned.
The site no longer exists. If you want similar content HERE
Back to the other porn paysites or enjoy more on Realorgasms.