Realitylovers Review
Realitylovers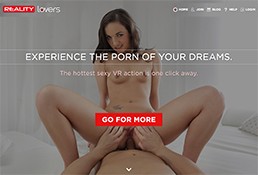 Price: $19.99 (30 Days)
The RealityLovers is only a year old. Just like this crazy VR technology, the site is fresh and crispy, though it's on the good track.
00000
Reality Lovers Website Report
Intro
The RealityLovers is a virtual reality porn website. It's one of the first sites to ride this new crazy wave of hardcore porn, and it seems to be the good kind. At first, glance, when we visited the site, we found it to be handsome and easy to use, which is probably due to its freshness. Though we review new sites carefully, and without any prejudices, we had our expectations high when we visited the RealityLovers and saw what's going on. So, let us show you the way to the world of hot, hardcore reality porn.
Features
For those who are new to the virtual reality porn, or don't have a clear idea about it, this review will help you to understand what the big fuss is about! The main idea behind virtual reality is that you get a life-like viewing and hearing experience by using the proper gear. It's not just viewing a video anymore: with a VR set, you get to watch the action from the guy's (or gal's) point of view, and you are going to feel like you are that lucky person having great sex with a porn star. You can even look around in the room! There are 180 degrees and 360 degree videos, which grant an awesome experience.
It works like this: you put on your headset (connected to a smartphone, console or your computer), and the video goes to the device through HDMI, or if it's a headset (for smartphones) it's viewed directly on the device. The special lenses of the set will create a so-called stereoscopic 3D image, with an increased view-field. Thanks to this technology, you can be in the room with that hot chick, you don't just watch her being banged! You can see what you have to see!
There are several devices you can use: Google CardBoard is a low-budget device for smartphones. Samsung has its own high-tech device for Samsung Galaxy phones. There are even more advanced devices like Oculus Rift (with touch device), the PlayStation's device or the HTC Vive. These are quite expensive, but with them, the experience is truly immersive!
Content
This is a porn stars only website. Both the guys, and the chicks are professionals, and they show you what they can do. Many of them are natural wonders, however, if fake tits are your thing, you won't be disappointed either. There are all kinds of chicks, from hot MILFs to sexy kittens, including a few ethnic hotties too. The guys are Caucasians in most of the time (we mention them because there is girls' VR porn too!). Though the collection isn't large, the videos are quite varied.
It's not just "come here and fuck me" action, but some nicely built situations. The girls usually do the hard stuff, while the guys are just sitting or lying there (well, they can't move a lot because the camera would shake). However, these experienced hotties know what a man needs: they strip off their clothes, kneel before you, then suck your cock. After that, the girls get to the hard action: they ride your cock like crazy, and some of the further, as they introduce your cock to their butthole. There are some kinky videos too, with femdom, candle wax dropping on your body, and so on. We were amazed by this variety, it was quite unexpected from such a new site!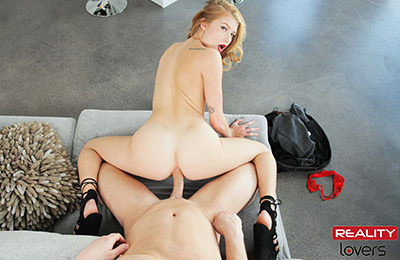 Conclusion
VR porn is the future, we can see it now. This is the reason why every big-time porn producer started to make videos with this technology. There wasn't a real transition from HD to VR, and only a handful of sites started to produce 4K videos when it became available. Well, never mind, the main thing is that we have virtual reality at our reach, and everybody can enjoy hot porn with this technology. The RealityLovers is the perfect place to explore this brave new world!
Look at the other top pay porn sites or other reviews about Realitylovers.