Realgirlsgonebad Review
Realgirlsgonebad
Price: $9.99 (3 Day Access)
Real girls gone bad is a 21st century porn website that films good girls who have flown out to have some great time. These are good British girls just that that next door girl back at home. However, these are girls who have been enjoying some good times dancing, partying wildly, boozing and getting as naughty as they could.
00000
Real Girls Gone Bad Website Report
Intro
Real girls gone bad is a web porn website that doesn't feature any paid porn actresses. This site promises you four things: exclusive and authentic content, guaranteed weekly content, HD quality videos and no paid actresses. The first impression when you log in to this site is that the company has certainly hit a niche that has not been probably catered for in the past. There are numerous American college party websites and this one thankfully is filmed in real life, and all the girls are willing participants.
This site promises you a real authentic night with these UK girls who want to live while they are fresh. These are the girls who have no boundaries as long as fun is concerned. They flow out to party towns where booze flows like streams, dancing and getting dirty is the order of the day. Wet t-shirt contests, bar crawl frolics, and public nudity are not just common but rather appear like a compulsory rule as they run all day long. This site is purely of girls gone bad. However, considering they go partying on party towns, what's too dirty to do? Maybe only murder.
Features
With more than 244 videos already and 353 galleries, this site has more content than you probably can watch. The site is updated every week with new videos and galleries added. This keeps the site well-nourished and maintained to ensure you never miss new content. You can sort the videos either by recent, oldest or by combined user ratings. Of late, categories have been added to the site. You can as well sort the videos by categories which include amateur, boobs, 18-23, softcore, reality, videos and movies. This option gives courage to those who fear cameras and everyone else staring at the chicks as they do their dirty stuff. These good girls can get bad and perform all the penetration you see in the typical hardcore websites. This site has no extras or bonuses for the subscription. This could be one downside of the site as bonuses and extras do a big deal in maintaining clients.
Content
Most of the videos on this site are based on bar crawls and wet t-shirt contests. Bar crawls are videos on footage that are filmed on a dance floor. There is usually loud music blaring while the dance floor is full of girls, arguably all drunk and making fun of the moment. They start taking off their clothes as music blares on while the onlookers shout to encourage them. Girls enjoy their time by flashing and touching their tits. Some of the girls go to the extent of getting totally naked right on the dance floor.
The wet t-shirt contests are just like the normal ones. However, this is a party town so they go an extra mile and get almost naked. They dance around with their naked tits juddering and bouncing to the applause of spectators who continuously shout to encourage the girls to go completely wild. The British girls then tug off each others' clothes as they seek to get dirty with each other. Soon enough the floor turns chaotic as the girls start kissing and sucking each other's boobs as the party goes on. However, in these parties do not expect anything further as there is no sex and any penetration. During the party, it's about getting drunk and making the moment as wild as it can get. You also need to know that all these girls are British girls who are on vacation and are all between their age of majority and 23 years of age.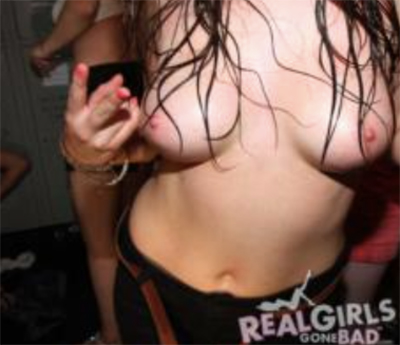 Conclusion
Real girls gone bad is a site that pushes forward the fact that all their content is exclusive and featuring amateur girls. Above all the use of different types of scenarios and even different locations makes their contents stand out and much fun.
Back to the paid porn sites or read more about RealGirlsGoneBad on other famous porn review sites.