Realgangbangs Review
Realgangbangs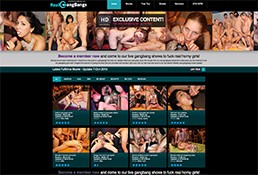 Price: $29.95 (30 Days)
For those who like the niches that are centered in gang bangs and hardcore sexual activities, then I am recommending this site to you All of the scenes found here are exclusive so that you won't be finding them anywhere else.
00000
Real Gangbangs Website Report
Intro
Get ready for the ride of your life as you straddle on the road going to RealGangBangs. This site is fun and hardcore and you will be finding the horniest group of people you will ever lay your eyes on. Their sexual deeds and actions are completely out of this world. Here, you will find women getting it on with numerous and different men. It does not just stop at two or three. Maximum number of these men is probably 10 or 12. Make no mistake though, because these ladies are enjoying the attention the cocks are giving them and they're not afraid to show it here in RealGangBangs.
Features
RealGangBangs pretty much has a generic ring to their website. Like all other sites that belong to "Hot Bunny Pass" network, the design is bland, minimalistic, and very simple. For me though, simple is good. Simple means, there are less ways to get confused. This porn site has a black and turquoise color scheme, accompanied by their white fonts and clear as day font style. When you get first to site, you will notice how there is a collage of video caps found on the top, along with the site title.
Right on top of that, is the menu tab, where you can almost immediately take heed of the links present. You have the "Home" button, the "Movies" button where you can easily find the full list of their available scenes, the "Models" button where you can find a list of all their present models and those who are out of the scene already, you have the "Members" button where you can log in using your username and password. If you have not registered for a premium membership, then you can find a "Free Tour" button, you will have a short tour of the site but you cannot feature, watch, or download anything.
Content
German women and men dominate the scene in RealGangBangs. Sure, there might be more men than women, but it is because these gang bangs focus more on the girls being surrounded by men. As gang bangs are being described, these are instances when one person has sexual intercourse with three or more different individuals, preferably of different sexes. In each scene, there could one or two females present and probably six to seven different men. These men then take turns fucking the women in their pussies, their asses, their tits, or their mouths. They do it simultaneously too, whichever way the play goes. For the most part, these juicy happenings and recordings show us how these German chicks love doing the nasty as they go down and dirty to several cocks that come flying their way.
These horny women love to suck, give out blowjobs, get tit fucked, and then to the main dish: getting fucked in all glorious holes they own. RealGangBangs' scenes can be either streamed in your browser (with the presence of an updated Flash player, preferably Adobe Flash) or downloaded and saved to your particular device. Streaming will give you a high definition resolution which is a whopping 1920 x 1080 p, with a 6000k+ bit rate. Saving it in your device will only give you one format option, and that seems to be only in mp4 format. Its pixel resolution remains at 1920 x 1080, with the same 6000k+ bit rate. When you stream, you will have to leave it for a few seconds to buffer but if your internet connection seems stable enough and fast, there is no need for that. Updates are happening weekly as they one to two new videos every time that happens.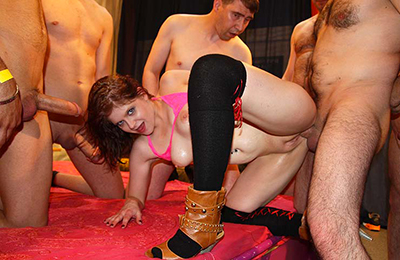 Conclusion
You see, despite how RealGangBangs is portrayed as the perfect place to witness a thoroughly produced and directed gang bang, there are still lots of unresolved problems that plague me. The lack of model information and scene descriptions is big for me because I am the type of guy who reads about it. For you guys who do not care about the little details, then by all means, go right ahead. The site is quite pricey but very worth it. With constant updates piling in like snow in a snow storm, RealGangBangs is most probably climbing to a brighter future.
Back to the adult pay sites