Punishedangels Review
Punishedangels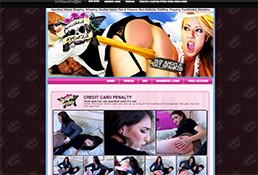 Price: Free (2 Day Access)
Over 20 subsites give you all kinds of material to explore. Just a few of these sub bonus sites includes fetish network, femdom handjob, and pantyhose upskirts.
00000
Punished Angels Website Report
Intro
The hottest shy girls put in their appearances on PunishedAngels. The bad girls on this site get spanked until their asses are bright red. You'll see paddles, hairbrushes, and sometimes bare hands being used to bring girls mass amounts of pleasure. Each video has a trailer and a short description so that you can make an informed decision when choosing the perfect video. These girls are getting all hot and bothered leaving each other's asses red and swollen.
Features
The site is designed so that you can see a sneak peak of what you are about to enjoy straight off. On the home screen, you immediately see the action you came for. The list of videos fills the page. Each video lets you read a brief description, play a trailer, or download the full movie. A display of still photos from the video displays to give you a taste of what the video is all about. You can also get straight to the videos with the video tab. Next is the bio tab which proves itself to be a unique thing. Most sites don't have this, but here on the biography page, you can read about the founder of this Chelsea Pfeiffer. In this biography, we get to know the woman that envisioned and brought this site to life. She shares how her fascination with this niche began and how she came to create this site. Along with the videos on this site, there are over 20 subsites to explore as well. Most of them are in the same niche as PunishedAngels. FetishNetwork brings us PunishedAngels in congruence with all these other subsites all wrapped into one pleasing package.
Content
The girls may seem so ordinary if you saw them on the street or in the coffee shop on the corner. You might remark to yourself at how pretty they are but you'd never guess the things they are doing in privacy. Four pages worth of these hot videos will get you ready to bend someone over your knee yourself. And then for even more fun don't forget that there are over 20 subsites containing all kinds of naughty videos for you to explore as well. And then, of course, one of the most exciting things is the create your video feature. With all the videos and sexy models offered here and on the subsites it easy to see this being the go to the membership for your naughty needs.
Take Natalie and Ariel two ordinary women but when Ariel finds that Natalie has been using her credit card without permission, she cannot let it slide. She has to bend Natalie over her knee and expose her bare ass so that she can teach her a lesson. By the end of Natalie's lesson, her ass is bright red but both Natalie and Ariel are satisfied. Annabelle is a ballerina but she has been a careless and naughty ballerina missing a rehearsal or coming in late. This just won't do for the instructor at her academy. Madame Zola lays Annabelle down over her lap and takes a hair brush to her ass for all the trouble she has caused. Carolyn and Francesca have some light hearted fun when Francesca finds out that Carolyn has stolen her cupcakes. She must not let it go and Carolyn gets a couple of red had printed on her ass as retribution.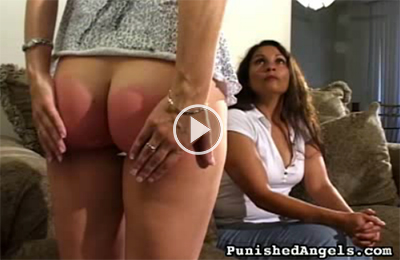 Conclusion
PunishedAngels shows you just how nice it can be to feel that burn and come away with a red ass. These girls are all about teaching each other the lessons that they deserve in the sexiest naughtiest way that they can. In the end, everyone is satisfied and you will be too.