Pornfilms3D Review
Pornfilms3D
Price: $29.95 (30 days)
They boast of really being the future of porn and, from what I saw, it is true. Pornfilms3D is a website that really takes you to the future.
00000
Porn Films 3D Website Report
Intro
Pornfilms3D is one of the few sites right now that are taking what they do to a completely different level, giving their users truly unforgettable experiences. They take a realistic approach right to their users' computers, with easy and interesting features that will give them maximum satisfaction.
Features
The design of the website is pretty simple and the layout is pleasant. Overall pornfilms3D is really easy to navigate. What is really worth discussing in this section is the wide variety of new and interesting features. First of all, the website is mobile ready and also optimized for nVidia 3D Vision. Under the presentation, the logo and the devices and quality, you can see a very helpful menu bar. The first button is a free tour and then what I really liked is that there is a button that directs you to a page filled with instructions on how to view in 3D.
The whole experience is made easy for members and they have really put a lot of thought into how to become more accessible for everyone. Then, you also have a button for getting 3D glasses. Not many websites offering similar services take the time to direct you to cheap online alternatives where you can get everything necessary. Afterwards, you can scroll through plenty of thumbnail rows with about 3 thumbnails per row, giving you a taste of pornfilms3D's cool content.
Content
Let's talk about the videos on pornfilms3D first. There are almost three thousand 3d videos until now and the website updates daily, so there's plenty of content you can choose from. Before purchasing a membership, you have the opportunity to download plenty of previews, both in 3D and 2D. You can download an anaglyph sample, for which you have to use red and blue glasses, but also a 3D-TV sample, that you can watch on your TV or on an nVidia device, with active glasses. The 2D and 3D videos are all in 1920×1080 full HD quality.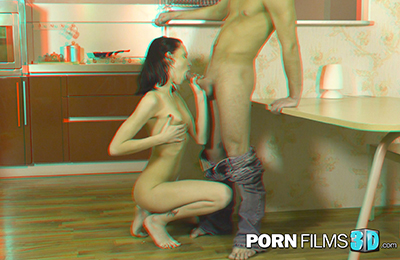 Conclusion
Pornfilms3D manages to stay ahead of the game in an ever-changing industry. They are really professional and accommodating and the quality of their videos will always be up to the highest standards.