Pascalssubsluts Review
Pascalssubsluts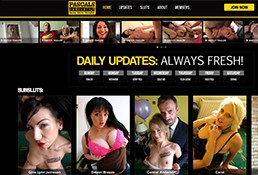 Price: $4.95 (3 Day Access)
Pascal's Subsluts tries to make a different approach. Rather than contracting experienced porn models or stars that can fake orgasms or act slutty, the site searches real women that authentically likes hardcore sex and being dominated by their partners.
00000
Pascalssubsluts Website Report
Intro
The hardcore scene in the porn industry is well represented by some of the most famous giants of the Adult Entertainment Industry. From Evil Angel's divine productions to Jules Jordan's amazing collection of complete movies, is not hard to find a harder viewpoint in porn nowadays. However, even if these big companies make their productions with famous pornstars, it is obvious that almost every aspect of the hardcore action and orgasms are acted, following a mounted script and instructions. The result is always interesting, but It doesn't hold enough realism to please everyone.
Features
If you like flashy welcomes, the homepage offers a nice surprise for visitors. An incredibly elaborate video will pop up in your face, with Pascal, the male performer, talking about the site proposal in between cuts of girls being fucked, slapped, spat on and dominated. It's an awesome montage of the most hardcore highlights passing through, slightly interrupted by a brief speech of Pascal explaining the site while he shaves and dresses. This is only a preview of the uniqueness of this site, full of personality.
Don't worry about the girls screaming and moaning; the video is loaded and played muted, so do not be afraid to take a look! The about page gives you a brief greeting written by Pascal, with the same wit and sarcasm, it is hard not to enjoy the charisma present in every aspect of his interactions. Pascal shows its personality even in the models' profile. With sagacious language, the girls' description is engaging, not only displaying their information but describing how they were picked up, the kind of sex they enjoy and a nice explanation of the scene.
The writing has a unique style not found on any other site, resembling nothing of the ordinary and kind of generic descriptions of porn scenes. The scenes can be downloaded in Full HD or streamed in the site's player. To provide daily new content, there's a great array of types of content, from interviews to picture sets, constantly growing the number of content and always surprising member with creative material. The searching is fast, with a tag system to make you find whatever is your fetish in no time.
Content
The models contracted by Pascal's Sub slut are not selected by their appearance of their previous background in the adult business; the only requirement is being a real slut. All the girls are genuine sluts that enjoy to be used and trashed in sex. Pascal has no problem choking, slapping, tying and spitting in these girls. If they enjoy something hard, they get it five times harder from him. So expect the girls are deepthroating, gagging, being slapped, being hard fucked and degraded.
The shootings have a fun and engaging atmosphere, feeling like a real sex adventure of two buddies looking for sluts in the weekend. There is even a nice friendly chemistry between Pascal and the cameraman, a figure who usually is forgotten or ignored. About the camera work, we can only describe it as a genius. Constantly exploring the fucking and the dynamic sex, there are extremely well done focusses and angles and the constant capture of the most arousing moments of the fucking. The illumination is not highly artificial, giving a nice blend of natural light and only the needed amount of artificial light not to make the scene looks like a fake studio porn. That way, the amateur feel is not lost, but only extended.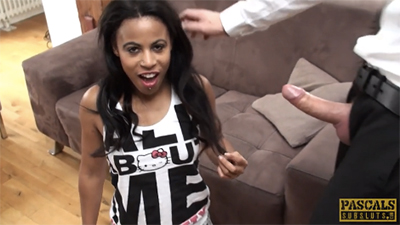 Conclusion
You may have discovered some unique porn sites on the internet, but we can guarantee that they don't have the charm and personality of Pascal's Sub slut. With only a couple months of existence, the site promises and accomplishes to make daily updates, providing not only sex scenes but complete interviews to better uncover their model's mindset and their sex experience. One of the most impressive things about Pascal's Sub slut is how they keep growing in at a surprising rate, having already more than forty individual scenes recorded in only a couple of months. That's a commendable effort made by the producers. There is no way you don't even slightly enjoy Pascal personality.
Back to the best premium porn sites or PascalsSubSluts on other popular xxx sites.