Nerdpervert Review
Nerdpervert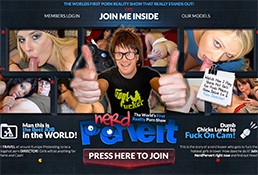 Price: $1.98 (2 Day Access)
Those who seek a site with fresh, and upcoming content, but would like to have some extras too, then the NerdPervert is the site they should check because it's quite an awesome one with the many bonus sites.
00000
Nerd Pervert Report
Intro
The NerdPervert has a porn video collection for you to browse, and they feature the sexual adventures of a British nerd, Paul, who tells girls that he is a porn producer, and he is on the lookout for sexy chicks who want to be great. Now, this isn't new, but the fact that it's British, and also that this guy isn't too picky makes this site quite interesting and warmly recommended to you all. These videos will certainly make you wonder about the mental health of this guy, but since the fucks a lot of girls, he surely knows something.
The NerdPervert launched during 2012 and fortunately it has been updated regularly since then. Nowadays, the videos are still coming – you get a new flick every week, and with it there is usually a set of pictures. You shouldn't worry about the exclusivity of the videos either, because they all feature the same guy, and they are all shot at the same place, so you will find it that they are in-house productions.
Features
The NerdPervert looks good (the site, not the guy), and it offers a short, yet exciting tour. You can go through a list of the recent or hottest videos, and you also have the option to preview the content – a compiled trailer is featured, which tells you a bit about the site. When you decide to get in, you'll have to the simple signup, and while you are browsing the inners section, you will feel that it's simple but good enough. There is a menu where you can reach all the important areas of the site, and while you are doing so, you should check the bonus sites.
The videos of this website are arousing, and they are shot in good quality. Recently, the guy set up some new cameras, thus he now offers you a selection of porn videos shot in Full-HD. Both the streamed and the downloadable versions are available of this quality so that you can enjoy both usual methods. Some flicks are quite long, so you should choose to download them, and that's fine. Paul has serious photo equipment too, and we advise you to check those great sets.
Content
We have to say that this guy doesn't deserve to get so much and so hot girls to please his cock. But, it seems that they don't concern about his average looks, average-sized cock, they just want to break into the porn business. And thanks to this, we get to watch here some genuine pieces who may not have become pornstars, but who offer a fine experience you get when you watch them. There seem to be mostly Caucasians here, and they are girls based in the United Kingdom, so get ready to hear them moan and talk with a British accent. This nerd is not to picky, which is a really good thing.
You won't find here only pornstar looking models. There are somewhat average chicks, who have a few decagrams of fat on their belly, but if you like the other end, then so be it: this Paul guy got some sweet BBWs to the end of his cock, and he gives them what for. Also, there are amazingly hot, tight chicks, who seem to handle a cock as professionals – they might have some escort-experience or had done some porn before. Regarding the actual sex in these videos, you will see that in most cases there are plain hardcore and some regular sucking here. Paul always plays his role, and he seems to like it, though the girls are not so good at acting like they don't know what's going on. In fact, the fake agent theme is somewhat old, and it's not always that exciting.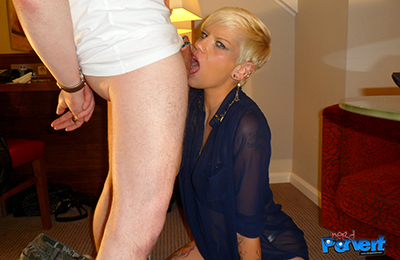 Conclusion
The NerdPervert is a fine site, and we are really happy to report that it's still updating. The theme might not be the newest, but we have to say that these videos are going to get you going, especially if you like semi-professional sex. You shouldn't care about the story or the background of the girls, however the sex they do is pretty much worth watching.
Enjoy the other pay porn sites