Myxxxpass Review
Myxxxpass Network
Price: $1.00 (2 Day Access)
If you are one real porn addict, you must check MyXXXPass! This website serves as the main site where you can access multiple other porn sites under their network. The website has been on the circulation for quite a while now. It also acquired a few patrons and die-hard viewers who are too eager for hot porno films!
00000
My XXX Pass Network Report
Intro
With eight other stimulating porn sites, MyXXXpass has a collection of over 3,700 videos and 3,000 galleries available that are just waiting for you to see. It provides access to porn sites with varied porn genres. This variation will surely keep you interested and will give you a choice whether which one would you prefer to watch and masturbate on first. Also, these videos and images are 100% exclusive for MyXXXpass Network. This means that you won't be able to experience this raw and carnal humping anywhere else. Surely, MyXXXpass will be enjoyed by different kinds of viewers.
Features
In connection with its neat design, I like how they only have one button for their Menu. With just one click to it, you can now choose whether you want to browse per scenes, photos, pornstars or sites available. This one-click gateway is efficient. However, if you want to focus more on porn genres, just go to the bottom of the page where you could find the choices hardcore, squirt, cumshot, deepthroat, and other categories. And to talk about their blog, everything is well written. It gives you a taste of what to look forward to. This attempt to look like a mini-magazine is quite successful. It encouraged me to read their short but precise description of what the next featured videos will be.
So far, this website has the best there is to offer when it comes to textual content. They provide an ample amount of text just to disseminate information toward their members, but not too much to distract some members from their porn binge-watching. If you were entertained with the performance of these slutty girls on the video, members have the advantage to rate the comment as high as they want. If you think that the performance still lacks something, MyXXXPass will honour our suggestions by writing it to their comment box, another one advantage for exclusive members of the website. This will help the website improve its service, as well as the quality of the videos – visually and story-wise.
Not only are these videos available online, but they are also totally downloadable. Their download manager will allow the download to be paused and be resumed whenever the member likes to. Therefore, there is no need to worry when you have to temporarily disconnect to the internet because you could just hit pause for it, and just press resume when your device is ready for downloading again.
Content
With over 1800 models, you will surely find the perfect model or pornstar. If you prefer to download the videos, it will totally be okay. Some videos are either zipped or in MP4, but the quality is consistent! Both file types will still give the same sharp and clear images and videos. However, if you prefer online streaming, you have a large enough flash player with a choice to change to full screen. It promises a playback that is as smooth as silk. Even though it has excellent video quality, the video streams fast with only a 1-3 second buffer needed to load the content. Jumping from one point of the video to the other is as easy as pie.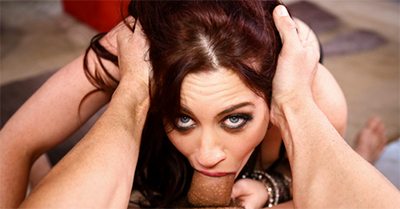 Conclusion
With all the special features I have mentioned, are you still doubtful about MyXXXpass' reputation? They wouldn't be one of the best porn sites if they weren't this competitive. From content to accessibility and efficiency to the safety of their clients, they have proven their capacity to provide maximum client satisfaction. If I were you, I would gladly subscribe as a member and start fapping as soon as I get my password that could access through different portals of this fun and amazing porn site!
This site no longer exists. For similar content, please go HERE
Back to the best pay porn sites or go to other reviews.