Myssogyny Review
Myssogyny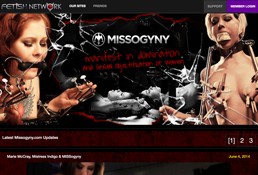 Price: Free (2 Day Access)
You'll see girls objectifying other girls in lots of ways like tying them up while making them cum using a variety of devices.
00000
Myssogyny Website Report
Intro
Missogyny is an amazing BDSM xxx site that offers porn videos of girls dominating other girls for the satisfaction of watching these sluts cry, moan and squirt like the sluts they are. Missogyny appeals to a crowd that shares a deep dark fetish in watching girls that are tied up, helplessly getting their bodies played with toys to the point of climax. For some people, this type of thing is pretty weird. What they're missing out is that for most people in the adult entertainment industries, it's actually pretty fun.
Features
Missogyny offers a front webpage that is simple enough to understand for people who are new to the site. Everything is compact and arranged for you to easily find what you want to watch. Missogyny's porn site updates regularly so you'll never find yourself trying to look for something new. The videos have descriptions so you'll know what you're about to watch. And the porn site is made by Fetish Network, so expect some more than usual kinky fetish porn. And also, a bonus for joining Missogyny will give you access to 50+ Fetish Sites by Fetish Network that features over 3000 exclusive videos for you to enjoy. Some of the Samples of Fetish Network are: Latina Patrol, HotelXXX, and Operation Escort. These are just some of the Fetish sites that Missogyny has to offer when you register to their website.
Content
Missogyny offers nothing but the best in the fetish network. And that includes well known hot porn stars. Introducing Marie McCray, she is a very well-known redhead in the porn industries. See her moan in satisfaction while getting dominated in her sessions conducted by Missogyny herself. And then we have Sasha Knox: She is one cute attractive blonde that everybody wants to get a piece of. According to her, she loves getting disciplined and toyed with devices. Let's see how she loves it when Missogyny carries the whip. Missogyny also offers a lot of videos and over 1 million photos, all in High Definition for your entertainment.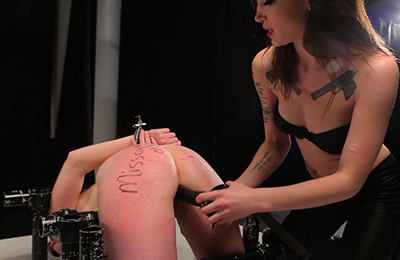 Conclusion
So far, after checking the site out and all its glory, Missogyny does it best when it comes to kinky domination porn genres. The site also includes girl to girl domination, so it can be considered Lesdom as well. I have to say that Fetish Network did a great job in creating Missogyny and compiling their vids in that porn site. I have yet to find another website that can trump this one. As of now in my well-researched opinion, Missogyny definitely takes the cake for such a niche in porn.
Back to the other best pay porn sites