ModelEve Review
ModelEve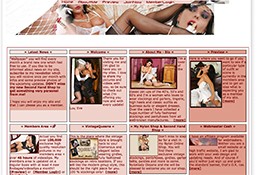 Price: $23.53 (30 Days)
Eve is best known for her crazy lesbian shows, but that's not what she truly is. Watching her do a sensual striptease with stockings or pantyhose can give you the right food for jerking off. Her nude or semi-nude scenes are truly amazing, and you will long to be with her as she plays seductively in front of the camera.
00000
Model Eve Website Report
Intro
Model-Eve is a fine porn site that offers the amazing sex scenes and softcore porn contents of a beautiful and gorgeous Italian model, Eve. This amazing porn site is a personal site of Eve, where she showcases her sexual fantasies, gets fucked, has fun, entices and teases you with her sultry moves, and provokes your cock by showing off her exquisite pink cunt and perfectly sculpted breasts. That's a positive sign because there's nothing compelling her to do it, and all her voluntary moves are pure excitement for your cock and your kinky mind.
This Italian beauty owns various garments and undergarments, with the undergarments being the most interesting of them all. Her pantyhose, stockings, lingerie and kinky accessories will drive not only men crazy but women insane too. Wearing the kind of undergarments she possesses would be the ultimate dream of any chick, and any man would love to see his wife or girlfriend use those kinds of lingerie items with awesome effect. Eve is a mature chick, with long, straight and jet-black hair. Her great looks and sexy and wild-animal like features make her the ultimate sex fantasy of guys like you. Read this review to understand more about this amazing porn model, and you will find yourself falling in love with her, her sensual moves and amazing features that not only she possesses but that are available on the site.
Features
Model-Eve's site is very well organized, and you get right into the scheme of things the moment you enter the site. Navigation is easy, with each design element in its right place. A montage of photos of the chick in provocative poses greets you with a big smile. She shows off her exquisite breasts, in white lingerie and black stockings. These photos are sufficient to give you a rock-hard erection in no time. Scrolling down, you can read about her in her biography, and understand the kind of slut she is. Eve also goes on to explain the purpose of creating this site, and her passion for sexy stockings, garter belts and other vanities.
Model-Eve also features links to all her friends, and all of them are as kinky and horny as she is. These sluts show off their horny side by showcasing their skills in giving a sultry photo shoot or an insanely sensuous striptease video. This is not all. You will love to watch these bitches fucking guys and teasing you with their amazing boobs and pink cunts. If ever you are bored with Eve and her sensuous moves, then it would be a great idea for you to check her friends out. You will find that there's more to Model-Eve that what meets the eye.
Content
Eve possesses an exquisite body that can drive you crazy. She is sexiness personified, with a very sensual face and a passion for intimate lingerie, including stockings, pantyhose and garter belts. Her effective use of these accessories in the most provocative and seductive ways, in a retro style, will surely give you the necessary fillip to take your cock out and jerk-off to glory.
There's a sense of elegance that she brings to the table, arousing your curiosity to unravel the intimate secrets of this amazing bitch. Her wild and carefree lifestyle makes us think about the wonderful things she enjoys, without any inhibitions, with sex being the most important of them. She loves to get fucked hard, take cocks into her ass and pussy while giving warm blowjobs. Her admiration for cum is evident when she takes in loads of cum into her mouth or gets her body wet with the gooey liquid, as she applies it all over her body.
You'll find Eve engaging in various forms of sexual activities, including lesbian shows, striptease involving stockings and pantyhose, and hardcore movies. You can enjoy crazy picture galleries of Eve in various poses, and thousands of photos showcasing kinky fetish scenes.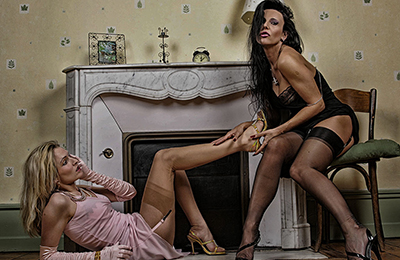 Conclusion
If this excites you, then it is time for you to subscribe to Model-Eve, for it offers you the kind of jerk-off experience you've been waiting for. Membership is easy and there are several subscription options. Longer-term options give you special discounts, while you can also sign up for a free demo. You can personally get in touch with her and know more about her amazing sex life.
Don't miss the other best adult pay sites or read more about ModelEve.
| Review Site | Trial | 1 month | 1 year (per month) |
| --- | --- | --- | --- |
| Reviewsporn.com | N/A | $23.53 | $9.28 |