KatieThomas Review
KatieThomas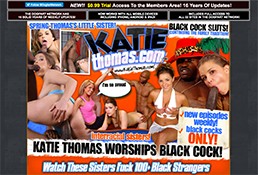 Price: $29.99 (30 Days)
In case you are looking for a big selection of studio-made interracial porn, you must check this site and this network. You will find in the members' zone straight content mostly, but for those who are looking for the other types, there are interracial gay sites included too.
00000
Katie Thomas Website Report
Intro
The KatieThomas is the dedicated website of the interracial porn princess, Katie Thomas. This hottie is craving for hard black cock all the time, and thanks to the studio behind the site, she always gets it. Sometimes more than one at a time. This portal is a good collection of heavy interracial pornography, but we must say that even if there is one model in focus, she and her actions are truly varied and exciting. In case you are a fan of watching cute White girls getting fucked and sometimes ass-fucked by Black guys, you are going to love this series.
Features
You can take your time and explore the collection of KatieThomas properly. You won't get actual previews, but you do have the option to browse through the list of scenes ever added to this collection. About thirty pages could be browsed this way, and you can gather enough about this collection to know that you are going to love these scenes. But you are not reading our KatieThomas review to learn about the tour, so we head inside, and see the goodies. As far as the inner navigation is concerned, you will see that there are multiple menu areas: one on the top, and one on the left. Both offer network-wide and on-site navigation, so you are going to find the site overall good to browse.
There is a search engine that recognizes keywords as such, but there are no advanced options for it. You can shorten the browsing time by using the site's quick links (top 20, recent network updates, etc.) As far as the user features are concerned, you can perform different actions. The basics like downloading and streaming are evident, and nowadays regular features, such as commenting and rating are also available. You have several filters at your disposal, and you should use them.
The videos' page features the embedded player's window, and you can also see the download options listed. It looks like HD videos are not available, on hi-def shots are featured, which means a better 480p quality. In the browser, you can play the videos via an embedded Flash player, which accesses MP4 files as the basic resource. You might also like to check the download options: there are WMV files mostly, while a few MP4 format scenes are available too. You shouldn't worry about which quality to choose because the videos won't take too much drive space. The picture galleries of the scenes feature a mix of photos and screen captures, but they are somewhat better in quality, as they are digital shots, done with the then best quality. You can save these sets in zip format. Also, mobile access is possible.
Content
There is usually one girl in focus on the site and that's Katie Thomas. She is a kind of porn sister of Spring Thomas, but there is no other relationship between them. Those who love watching Caucasian girls getting fucked hard by Black guys will enjoy the scenes of this cunt, as she is putting on a great show. Her body is natural, tight and she has no enhancements on it. Her appearance is sexy on its own, but when she goes hard on a cock, she is even more gorgeous. Sometimes she shares a cock with others, and those threesomes are quite exciting.
The company behind the site might be professional, but it looks like the videos are rather home-made looking. These interracial shots won't overwhelm you with brightness and neatness, as they take place in average-lit rooms. However, what takes place is quite kinky. Apart from the fact that it's some hot interracial sex, the videos here cover additional niches, such as cum swallowing, creampies, anal penetration, and facials. The scenes don't cover any actual storyline, they just happen and Katie gets her fine puss and ass banged hard and nicely. Those who like such things will find these videos to be more than satisfying.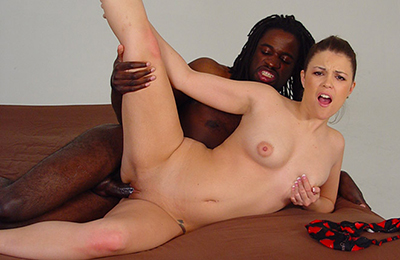 Conclusion
Katie Thomas is a truly horny girl, and her videos are quite good for any porn fan. In case you are looking to find a hot chick who likes to get Black guys in her bed, then you have just found the place you should be at. The KatieThomas is a very fine hardcore porn site, and since it grants access to the most reputable interracial porn network, membership on this website is a must for everyone who loves to watch this type of sexual interaction.
This site is now part of DogFartNetwork. Check it HERE
Look at the other best porn sites pay