HotOlderMale Review
Hotoldermale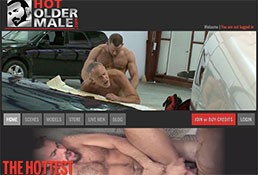 Price: $25.95 (30 days)
Awesome gay adult site giving a huge collection of male to male porn videos featuring some of the hottest older men in xxx action, outdoor and indoor, to get the most arousing experience you can have
00000
Hot Older Male Report
Intro
Top gay porn site, HotOlderMale has been rising in the pleasure kingdom with its erotic silver male-to-male acts. Who can deny the primal satisfaction of seeing mature actors sucking and fucking each other to their heart's content? Within just a few minutes of browsing through this website, you can already feel the bulging shaft inside your pants and there's no doubt about that. If gay sex is your thing, HotOlderMale can provide you with the ecstatic feeling of your sexual fantasies.
Features
On the first glimpse of this site, you'll already be welcomed with the lubricious and arousing photos of silver men jerking off. In addition to these sexually stimulating images, you'll be impressed with the overall interface of HotOlderMale. With that being said, the colour palette of the website is minimalist and pleasing to the eyes. Besides, the utilized fonts are easy to read and strategically placed in the best parts of the page.
Another distinct feature of this site is the blog section. This facet displays all the detailed descriptions and information of the mostly-viewed videos and clips in the gay porn website. By browsing through this section, you'll surely be tantalized with the delicious words and dick-hardening elucidation of silver performers and their acts. HotOlderMale has over 500 videos of male lovers that are doing everything for the sake of pleasure. Generally, the clips available here can be viewed in different qualities. The older videos play at 670×500 and the new ones can be streamed at 890×500.
Content
There's no doubt: the 40-60-year-old actors of HotOlderMale are not your typical guys. Most of them are grey-haired with rock-hard bodies and sexy anatomies that no one can resist drooling at. From the delicious frame of Ray Dalton to the rock-hard abs of Alessio Romero, these performers undoubtedly have everything to offer more than their long and hard dick.
Moreover, the porn hunks on this website include not only those that are established in the industry but also those who are amateurs, and first-timers. Very rarely, you can also spot some men in their twenties who have a fetish for sex with the older bunch. With that being said, you can expect fresh faces that are not usually found in other porn sites. So what are you waiting for? Sign up today and give yourself access to the endless possibilities of gay sex pleasure.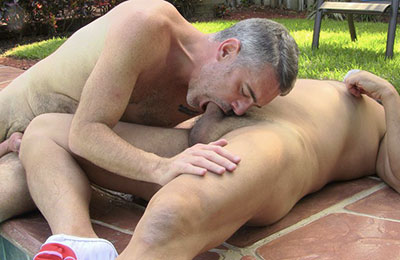 Conclusion
HotOlderMale is yet another revolutionary advancement in the porn industry. With all the titillating scenes of men jerking off, you'll surely be motivated to always come back for more. Besides, the irresistible naked anatomies of these silver-haired hunks will leave you drooling in your own private space. And oh, who won't be astounded with the satisfying scenes of erotic fantasies and wild shaking bodies of lustful these lovers? If gay and hardcore porn is your thing, don't hesitate to click the membership button in the website today.
Visit the other best porn paysites