Flowerpanties Review
Flowerpanties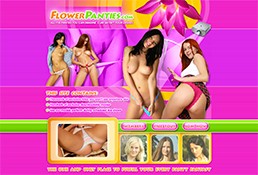 Price: $5.95 (2 Day Access)
Great amateur porn site to enjoy if you are especially into fresh faced ladies donning flowery panties with a knack of exposing their puffy muffs and masturbating their way to pleasure.
00000
Flower Panties Website Report
Intro
FlowerPanties is an amateur porn site if you like watching fresh faced girls getting it on by stripping, posing, and playing with their cute muffs using different sex toys. The site is practically a huge place where you can find a bevy of cute girls wearing cute flowery panties which never lasts long on their pussy as they rather take it off seductively in the hopes of giving the audience raging boners. Solo scenes with girls masturbating using different methods are what you will find here most of the time and numerous panty shots and pussy focus dominate the scene.
Features
FlowerPussy has a minimalistic site design, but it still looks pretty neat, if you ask me. The site arrangement is quite the delight and because it has a simple feel to it, it is rather easy to find your way around in here. Navigation is fairly simple to understand and even easier to use. The user interface is very user-friendly and convenient. The overall function of this place is outstanding, so there is no problem with it.
Browsing here is straightforward and uncomplicated as you will be given various options in the first place. You can make use of the usual pagination link, sort the content out by their dates, titles, ratings, and popularity, or you can use the advanced search bar found on top of the site, just next to the links. Everything here is made easy, pretty much. Now, aside from the usual video content, you will have access to numerous photo sets that amount to almost 500 as we speak. These photo sets contain 80 hi-res photos inside. The set itself can be downloaded in zip files or you can opt to save the individual photos by right-clicking on them. As for the videos, you can comment on them or rate them. You cannot, however, add them to your favorites. Instead, you can bookmark them to locate them easily in the future.
Content
With almost 200 scenes present in their site, FlowerPanties has quite the number of models, as well. These ladies are real amateurs but when it comes to what they do, they are passionate and they know how to rile up an audience in the best way possible. These sultry vixens don cute panties that they love to show off in the first few minutes of each scene, and as things get a little heated, they then start to strip, teasing along the way. They love to sway their hips in front of the camera, seducing their way through. The panties come off soon enough and a good pussy focus is done – well, zeroing in on the pussy is the name of the game here and they do a pretty good job of doing so. As erotic as this site seems to be, the absence of actual dicks is not much of an issue because I believe that the main foundation of a good porn site is the quantity and quality of girls and pussy it can offer.
First and foremost, all 200 scenes last for a good 10 to 15 minutes. One of the best things about this site is that they offer great HD quality for the majority of their videos, while the older ones retain a lower spec but still pretty decent. Ravishing pussies are no good if they are not of good quality, so they made sure their resolutions are great in the first place. You can choose from a 1920 x 1080 pixel resolution or a 1280 x 720-pixel resolution. There are two options when it comes to watching the scenes: streaming and downloading. Streaming can be done in your browser as long as your Flash player is updated. Downloading is simple and you can save the files in your device in various formats like MP4 and WMV. Downloading here has no set limit, so you can download as much as you want. Also, full-length HD playbacks are available, as well.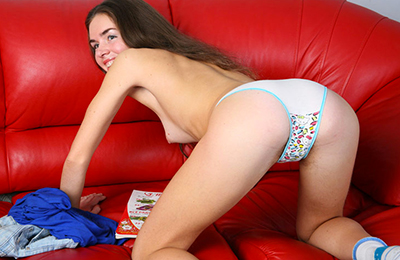 Conclusion
FlowerPanties surprised me as it exceeded my expectations in both the short and long run. Their take on porn is rather unique, hiding the perverseness in sweet, cutesy themes like panties. The girls here are absolute sweethearts and the foreplay they engage in are beyond immaculate. The site is huge to begin with and even with that, they still managed to keep their videos in high definition. Overall, this place is very easy to manage and there is so much potential looming over it, and with the way things are heading, you are sure to get the best out of everything in here.
Back to the other adult pay sites