Emobfvideos Review
Emobfvideos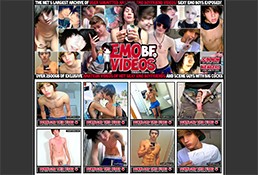 Price: $1.00 (1 Day Access)
The hardcore videos cover anal sex, bareback drilling (reckless bastards), and even threesomes and group sex!
00000
Emo BF Videos Website Report
Intro
The EmoBFVideos is a gay porn site, where you can find hot hardcore videos of slender boys, who show their body and their skills for the hungry viewers. This porn site has a nice collection, and though many tour claims are not met, your overall user-experience will be positive. Let's check those claims one by one, and by the time we reach the conclusion of this EmoBFVideos review, you will see the whole picture too. Let us see some background first, though.
The EmoBFVideos is a three years old website, and since the day it was launched in 2013, it has been updating on a weekly basis. If you open the tour, it will say that there are weekly updates, but that's just not true. But, the weekly updates still keep on coming, and they usually consist of one video, and one or two photos set. Due to this, the photo collection is bigger. You will find here a neat compilation of non-exclusive content, that mostly comes from the amateur and semi-professional categories.
Features
The tour page of the EmoBFVideos shouldn't be trusted. It struck us like lightning when we realized after entering that the claims out there are barely met. Yes, there are hot guys, posing for the camera, masturbating or stuffing stuff in their butt, but none of the boys from the tour page are featured inside. Those photos – if you take a closer look – are fake, enhanced shots, and they are just marketing material. Well, never mind, there are a few hot goth and emo lads, and if those sub-cult guys are your thing, you can still enjoy this collection.
We know the company that runs the site, so we weren't surprised to see the usual, quite dull interface inside. At least it's feature-rich, and you have several good navigation tools at your disposal. The left side of the members' section has the main menus: the links to the content of this site, there is a list of every unlocked network sites (you can simply pick a site, click on it, and its videos appear in the middle section), and you can find some other sorted lists too. A search engine is also implemented, and there are a few ways to organize the lists, e.g. most recent ones come first. From the main menu, you can reach the bonuses too, such as the live chat, and the personal ads.
The EmoBFVideos offers a few dozens of hardcore and softcore gay porn flicks. They are served in MP4 format, and if streaming isn't for your stomach, you should be glad, because downloading is a valid option too. You can save every video listed on this site (and for every other), and there are no limits. Also, everything you save is saved to keep, so when your membership expires, you can still watch the videos you downloaded.
The quality barely ever reaches HD, and when it comes to flicks from amateur sources, it's even lower. The Flash player plays a low-quality format and downloading yields better performance and resolution. The photo sets are quite good, and they look much better. These sets are independent from the videos, so they worth a look, as you can find many emo-looking twinks, showing their body and their cock. The site works on mobile, but it's not perfectly optimized – most videos play nicely on such devices, though.
Content
Since the EmoBFVideos focuses on emo twinks, and several other, alt-looking blokes, you can expect to see some slender, gorgeous boys with a cute body, dyed hair and even tattoos in different places. They mostly fit for the twink category, even if they are not emo or they are not gay at all. Hetero guys can shoot naked photos for their girlfriend, can't they? But don't worry, most of them are gay…and hot.
Most of the hotties are amateurs, though some gorgeous semi-pro stars are here too. There is a really good collection of solo masturbation session, and of hardcore stuff. The one guy scenarios mostly cover amateurs jacking off or doing stuff with their butt in front of the camera.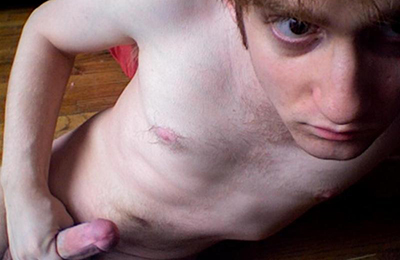 Conclusion
At first glance, the EmoBFVideos is not an attractive porn site. Although it has some issues, overall our conclusion is positive. The EmoBFVideos has some fine amateur porn for you, videos with hard sex, and photos with cute boys, so it's worth a try. Since you get a quite big gay porn network at your disposal, the deal is even sweeter, and it's a quite considerable benefactor of our final words. And our final words are: the EmoBFVideos is strange, but fun amateur gay porn source!
The site no longer exists. If you want similar content go HERE