Daughterswap Review
Daughterswap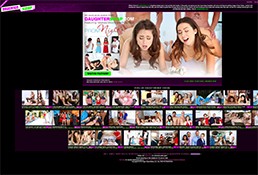 Price: $1.00 (2 Day Access)
The movies and photos are exclusive here so you will not find them anywhere else. At DaughterSwap, you can find exciting and intense scenes that you should check out.
00000
Daughter Swap Website Report
Intro
Are you tired of the porn you see every day? Or maybe looking for something different to spice up your porn time? The internet is loaded with porn of different themes and you have probably seen them all. In fact, you might think you have seen it all and there can be nothing innovative or new to see. But, when you thought you have seen all the possible types of porn, a new niche pop-ups. This article is a review of DaughterSwap, a new site offering the craziest theme.
Features
DaughterSwap has a well-designed site, just like the other sites of Team SkeetNetwork. The site members' area is average looking but well organized. It is easy to find what you want to see as the site content set up in an order update layout. Plus! The videos have huge thumbnails for quick and easy access to them. In other words, everything is shown on the home page so there is no need to spend a lot of time browsing just to check out what they offer.
In addition, this site is new and launched just a few months ago so their collection of videos and photos are not yet as big as the other sites. Nonetheless, they have more than enough content to keep you busy for awhile. At the time of this review, there are over 20 videos you can download and stream in your browser. The videos quality is good even when streamed in flash player. And best of all, you can download in WMV and MP4 formats with bitrate up to 1080p. Each video has a length of approximately 35 minutes long. Full-length HD movies files are over 3 GB, just so you have an idea. In addition, the videos have a description of the scenes to give you an idea and save you time from clicking them all. You can just click the videos with a description of what you wish to see. But, viewing these videos is not the only thing you can do as you can also rate, like and leave comments behind.
There are also photo galleries on this site that you can download. The photo galleries have screen captures of the scenes and digital stills of the models. Take note, each video comes with photo sets of the scenes. The photo sets have around 250 high-resolution pictures while digital set has around 200 pictures, which you can view online. Both the screen captures and digital stills are viewable online one at a time. You can download the screen caps individually but the digital ones can be saved downloading them in the zip file. Downloading these photos is fast because the files are just around 80 Mbs.
DaughterSwap content is exclusive to the site so you will not see any of the videos on free sites or other porn sites. There is also no download limit, which means you can download as many pictures or videos you want. And since the site is also mobile friendly, you can take your porn anywhere you go. Keep in mind that DaughterSwap is a new site so their collection is a bit minuscule. But, the site updates the content by adding 3 videos each month so expect more awesome scenes.
Content
DaughterSwap has a pretty simple theme and well played out scenes. The full-length flicks are so well played by the models that you will think the guys are real fathers exchanging their offspring for sex. The girls are American, hot, lovely and very good in depicting their roles. The guys are much older, the late 30s or 40s and they like their friend's offspring. The site definitely has cool videos. There is no doubt that you will appreciate the scenes that are carefully arranged to make your fantasy come true. Most importantly, you get to see up close the daddies cock sliding into fresh pussies. This site has plenty of horniness to keep you rock hard and sweating. That is not all, the hardcore scenes here are really intense and you can enjoy them.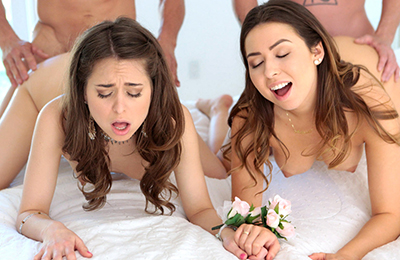 Conclusion
In summary, DaughterSwap is a new website from TeamSkeetNetwork, one of the well-respected and popular networks online that bring fresh-faced themed porn. The website delivers hardcore scenes featuring cute and sexy girls that you will enjoy watching. They also have a good collection of movies and high-resolution photos that you can save in Zip files. And since the site is new, but updating monthly, you can expect more scenes to come.
Back to the other porn paysites or read more about Daughterswap.