Crazyasiangfs Review
Crazyasiangfs
Price: $1.00 (2 Day Access)
CrazyAsiangfs focuses on beautiful Asian women acting in professional porn movies. If you like Asians then this website is perfect.
00000
Crazy Asian GFs Website Report
Intro
While visiting CrazyAsiangfs I was overwhelmed by the numerous gorgeous Asian girls with pictures all over the page. The pictures don`t hide anything so I felt the urge to click on one of the many nude women. I got to a half-hour video in just one click and I`m not sorry I did. The website is all about beautiful Asian girls filmed in HD.
Features
CrazyAsiangfs is friendly and easy to use. It is not meant for complicated searches as there are no sorting options or menus. You are presented with many clickable pictures extracted from the videos. I didn`t like that while hovering the mouse over the images you didn`t get more pictures from the video as it happens on other websites. So if you see a gorgeous naked Asian chick with huge breasts sitting on a couch you don`t know if she will use toys on herself in the video, have sex with the cameraman or get it on with another girl. A suggestive title is written under each picture along with a review in the form of 1 to 5 stars. The review doesn`t help though as all videos are rated 5 stars so there is no difference between them.
Content
I only found gorgeous Asian girls on CrazyAsiangfs. There is no typical Japanese censorship on the important action in the videos and the quality of the films is amazing. The material collected by the website is only of perfect Chinese, Vietnamese, Japanese or other Asian women that clearly go to the gym. I couldn`t find any fat ladies or ugly Asian chicks. The filming is clearly professional. Even though the site boasts saying that they have real Asian amateurs, the truth is that I couldn`t find any amateur video. This is a good thing in my opinion as joining this website is clearly a way to see perfect HD videos rather than homemade poorly filmed action.
The themes are varied, from girls having sex in their dorms to orgies with Asian girls at bachelorette parties. Most videos are at least half an hour long but you don`t have to wait a lot until they start the action. I also saw some really cool POV videos. There is nothing better than watching a beautiful big-eyed Asian hot model sucking from your point of view. She looks both innocent and dirty at the same time. There are many such videos and the fact that the quality is amazing makes them even better.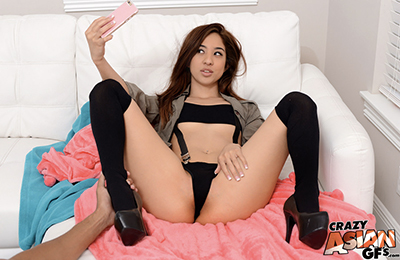 Conclusion
CrazyAsianGFs is easy to use and the selected videos are all worthy of your attention. There are various themes and they are all well addressed and produced for those that have high standards in Asian women.