Captainstabbin Review
Captainstabbin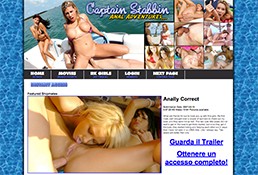 Price: $4.95 (3 Day Access)
The CaptainStabbin is a long-running series of the RealityKings studio. This site offers you hardcore porn videos, shot on a boat, featuring lots of anal sex.
00000
Captain Stabbin Website Report
Intro
If you open the home page of the site, you are ready to embark on the anal journey of Captain Stabbin, who will fuck those girls like there is no tomorrow and on the sea, it might even look like that. As a RealityKings site, the CaptainStabbin has been online for more than 13 years. To be more precise, this means over 37 sites with different focus niches to browse, offering you more than 9,500 hardcore scenes. Though the RealityKings hasn't won awards during its operation, it's the undebated king of reality porn, granting the members high-quality porn with gorgeous professional and semi-professional girl… and by cruising with Captain Stabbin, you get to access it all.
Features
The home page of the CaptainStabbin makes it quite evident what you can expect here, and the layout may be a familiar if you have some prior experience with the RealityKings. You can view a few trailers – you can reach them by refreshing the page until the featured video changes. These clips will surely get you in the mood. So, after joining the site, you naturally land on the center of the RealityKings network, with the CaptainStabbin videos listed first. A normal, quite basic search engine and the main menu will be your most used navigation tools.
The list of the scenes have some options to sort, but the models' database is a quite useful thing too. Since its part of the main network, the CaptainStabbin grants you downloading and online viewing options too. The in-browser access is possible through a Flash-player, which is used to access the HD stream (where it's available) – it provides good playback experience. Those who are looking for higher quality should give a chance to the downloadable files: 1080p is the best you can get, and it's hot. Most MP4 files are available. Large photo galleries are also available, containing circa 350 files – you can save them in zipping format.
Content
The models are quite varied, different ethnicities and various ages are present. Most chicks are under thirty though you can enjoy the videos of some MILF-aged models too. The main niche of the site is anal sex. Every video features, at least, one anal penetration, but as you will see in most cases, the girls get their pussy drilled and then comes the ass-play. The movies are staged and they are scripted, but you will find it that the girls are not overplaying, and most things they say feels quite natural. They won't made it to Hollywood, but their porn videos are quite fun.
So, anal penetration is the main thing, but it's usually mixed with some other elements, like interracial sex (e. g. White dude banging Black chicks) or group sex (threesomes and foursomes mostly). These videos are quite exhausting, so get ready for some rough cock-shaking when you start watching them. Those who like hardcore sex will surely enjoy the videos of this series. You may notice that all videos feature the same gimmicks: the girls are introduced to Captain Stabbing, and after they get their share of cum, they are thrown into the water, and the guys pretend to leave them there. These are long, sexy and fun videos, and they well-worth watching.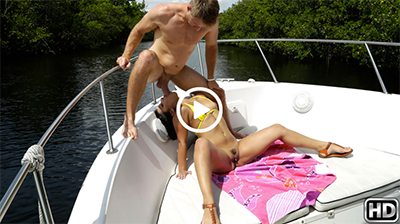 Conclusion
The videos of the CaptainStabbin nicely represent how hot the content you can get from the RealityKings is. In case you enjoy watching hot, tight girls' ass penetrated by large cocks, these movies will surely fit your taste, and they will fulfill all you dirty needs and fantasies. Those who don't know this series, or haven't even heard about this network should make up for their lack of knowledge… and the CaptainStabbin is a quite hot place to start. Since you get full access to the network, it's also a great deal which grants you nearly 10,000 porn videos for the price of one porn site.