Brutalcbt Review
Brutalcbt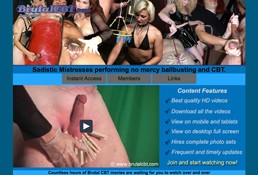 Price: $29.99 (30 Days)
BrutalCBT is the best place for femdom action with mistresses performing ballbusting and CBT.
00000
BrutalCBT Website Report
Intro
BrutalCBT is a top BDSM porn site that offers a great collection of bondage hardcore videos that represent the femdom and CBT genres. Mistresses will use any means necessary to fully submit men and shame them for both their pleasures. The scenes are mostly hardcore with very few exceptions. Whatever levels of intensity they reach, the men seem to handle it, but if they didn't I don't think anyone would really care.
Features
The site isn't very new and you can tell it by the basic design. Setting aside the dated blue background theme and very small text lines, the site did make some adjustments in the recent months. They started adding new videos in HD quality multiple times per week as well as some DVDs on a monthly basis. That makes up a massive collection of scenes when combined with all the older ones that have not been taken down. It almost feels like a walk down memory lane if that lane is femdom and CBT themed. You get to see the evolution of the genre or at least as far as video quality goes. The action is equally great regardless of when the videos were uploaded.
Content
The women seem to be quite hot for the most part. Bossy and domineering as they may be, they have great bodies and I can imagine how much harder it makes it for the subs. After all, during all of the clamping, slapping, kicking in the nuts and wax burning they endure, you still see most of them with an erection. The models seem to be mostly brunettes, maybe they give a more ruthless vibe than blondes, but I can't be sure of the ones that wear masks. There is no information page on the mistresses, but some of them are tagged in scenes so you could follow their work by tracking them. Not all of them are exclusive to BrutalCBT, but they are exclusive to the network.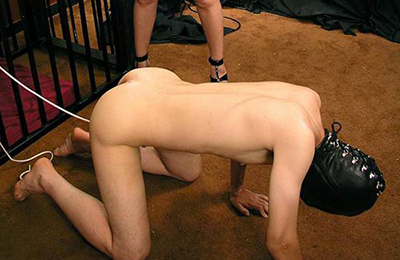 Conclusion
Overall, BrutalCBT is making a run for the top in the femdom genre. It already had an impressive amount of hardcore CBT videos, but now it's adding more per week than they used to per year. The video quality is as good as it can be and the mistresses are tougher and hotter than ever. It is a must-have site.
Back to other pay porn or enjoy more about Brutalcbt.