Badoinkvr Review
Badoinkvr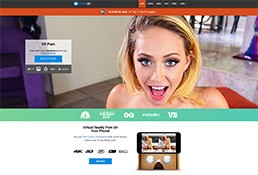 Price: $1.00 (1 Day Access)
With your membership, you get your very own FREE starter pack and virtual reality goggles. With that offer, plus the very cheap monthly subscription fee that the site offers to its members, the site is practically convenient and great.
00000
Ba Doink VR Website Report
Intro
With how technology is unfolding these days, some impossible became rather possible. Sure, we still have not encountered flying cars and the promise of a four day working week, but we are inching closer to a future with a lot of possibilities. Right now we have hover boards, drones, new hybrid air vehicles, space saving mowers, and wait for it, 3D virtual reality goggles. Yes, you heard me right, my friend. The present technology has presented to us quite a gadget that will help us enhance our "virtual" reality. Let me introduce to you guys, the world's first 3D reality porn: BaDoinkVR.
Features
Since the entire point of BaDoinkVR's existence is to promote a new kind of experience gearing towards porn, you will immediately notice how the site has so little design going on and I truly appreciate that because it makes it easier for the members of the site to focus on the content rather than what the site is designed of. Of course, since this adult site is a pay site kind of type, you will have to sign up as a member and you will be on your way. There are various payment options and payment plans made available and you can choose from any of those. It is not that hard once you get to know your way around. Also, I am sure at this point you are already skimming through your head how you are going to afford virtual reality goggles for you to use during your time here in BaDoinkVR. Easy.
When you enter the porn site, you will notice that there are links found on the very top part. It contains, more or less, the only links you will ever need when navigating here. You get the links for the entire collection which is labeled videos, you have links to the model index which is labeled 'Girls', you get the link to the help and support page, and on the furthest corner, you get the login button. BaDoinkVR may sound like it needs a tech savvy person but it does not. It is quite easy to manage.
You just wait for your free Google Cardboard, or you purchase a rather pricey one like Occulus Rift (which is, by the way, the bomb). Waiting for your VR goggles will not too long – take it from my experience. I signed up for a membership and then I got my goggles three days after. If you do not like waiting for too long and buying something else, you might want to check out your smartphone and if it has motion detecting sensors because then the videos will also work its magic. Not as immersive as the goggles but helps you being patient while waiting for it. If you have no idea what you will be doing and how VR goggles work, do not worry. There is the help button and you can always troubleshoot from there. Also, to make the VR goggles work, there are various options that the site will give you. One of the easiest ways is to connect it to an HDMI cable and then voila, you get your 3D porn in which you can immerse yourself in great pleasure.
Content
The videos work POV style here. POV stands for 'Point of View' and that is exactly what you will be getting plus the extra naughty bits. It will look like you will be the one fucking the girl, fingerbanging her, licking her pussy, and stuff like that. It will also feel like you have been given a blowjob, licked on, sucked on, whatever it is. Right now there are over a hundred videos in the site and it is growing with all its updates and such. The 3D VR goggles will help you experience a great porn scene and it would actually feel like you are there. The free VR goggles that come with your membership have a minimum of 1920 x 1080 pixel resolution and so expect the other options to go a little higher. It will even go as far as 4K. There is no download limit and so you will find yourself immersed in the feeling and the experience for quite some time.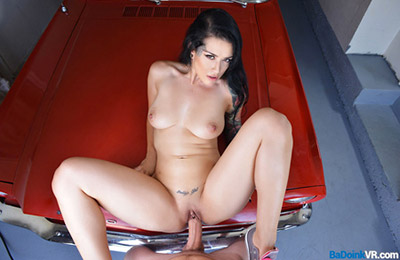 Conclusion
If you love good porn and an even better experience with really great quality, you will love BaDoinkVR. Not only do you get to experience the whole 3D process, you will great quality and quantity, and even more gorgeous girls.
Check the other porn paysites