40ozbounce Review
40ozbounce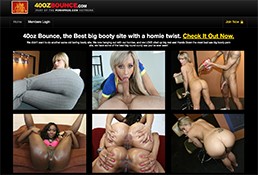 Price: $1.00 (1 Day Access)
40ozBounce did a magnificent job of combining big booties, pretty faces, and banging bodies all under one roof.
00000
40 Oz Bounce Website Report
Intro
When was the last time that you were in the presence of a sweet ghetto booty that simply bounced up and down for your joy and fulfillment? Maybe it was not too long ago, but I am about to welcome you to a world of jiggle and lots of good things that are related to big booties. These girls oil up their behinds and provokingly urge you to penetrate their enticing pussies. On 40ozBounce, all of your dreams are about to turn into reality. The action on this portal is well-capable of giving you dozens of orgasms in a row.
Most of the models are all-natural, while a team of them have physically enhanced their features. Either way, all of them have a huge appetite for cock and their big booties in common. Believe me, those girls know exactly what to do with their behinds. When they wear black or pink thongs, you will be begging your cock to stop making a permanent tent inside your trousers. The best thing about big butts is that they are always accompanied by equally big boobs. This means that you will most definitely get much more than you bargained for. As much as you will be sinking in an ebony sea of pleasure, 40ozBounce does not fail to spice things up a by showcasing models from many other ethnicities.
Features
Just as 40ozBounce is filled with diverse array models so is the site in itself screaming of diversity at its best. The collection of scenes and pictures in the galleries are all presented in top-notch formats. Therefore, in regards to the collection, you will be able to enjoy all that 40ozbounce dishes out thoroughly. Conveniently, the scenes can be streamed or downloaded and the pictures in the gallery can be downloaded as zip files.
The members' area is a replica of all the interface that you see on PornProsNetwork sites. Sorting can be done by categories such as anal or creampie, and this will guarantee that you will get the scenes that you want to find reach faster. 40ozBounce has broken down movies into scenes and as such, you will be able to use the least download times to enjoy them. You will be able to enjoy the videos in 1080PHD clarity. If you choose to access the collection using your mobile phone, you will still be able to do so but browsing cannot be done by scenes or category.
Content
Granted, they may not be the first big butts that you will see, but they are the ones that you will enjoy the most. The site deliberately brings pleasure into your world in ways that you won't be able to resist. There is something about these ghetto beauties and the few American hotties that you see her that leaves you unarmored and longing for more. One model is never enough to rock your world in the way that you want. Most of these beautiful girls are amateurs, but they bring enjoyment in ways that even professionals may not be able to.
The kind of effort that the chicks put forth in ensuring that you feel the erotic wind of pleasure right from where you are seated is truly unbelievable. These may just be the most pleasant group of enjoying. All you will want to do is rub your hands up and down their behinds. As well-known ghetto beauties, they are usually well capable of going to the furthest edge of raunchy-ville and back, without leaving anything to chance. They do not care if their assholes will be over stretched or whether their vaginas will expand, all that matters to them is receiving their good amount of big cocks in unforgettable ways. If you have ever been in need of a booty call, they are the very girls that you show be calling. They have cute ramps but even cuter faces that will cause you to enjoy the action that is simply out of this world.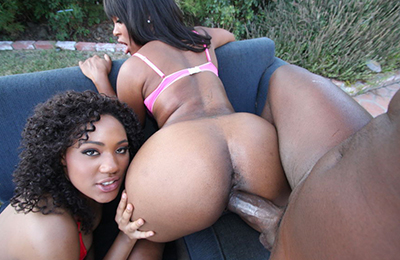 Conclusion
40OzBounce is a booty adult site with a difference. There are a decent number of models to keep you thoroughly entertained at all times. The junk in the trunk that you find on this entertainment portal will keep you glued to the screen for hours to the end. The collection on 40OzBounce is also represented in great quality and, as such, you will look forward to many crystal clear moments of cum.
Look at the other top pay porn sites or enjoy more on 40ozbounce.