21footart Review
21footart
Price: $1.00 (1 Day Access)
The 21 Foot Art brings the art of sex to the next level. The site will show the girls how to make their feet useful whenever they are being fucked by their boyfriends or someone they've just recently met at the party.
00000
21Foot Art Website Report
Intro
As a horny guy, you probably spend most of your time on the web and watch the most sophisticated porn videos available. Several times, you've seen cum face, blowjobs, ass jobs, and boob jobs. But the thing is, you haven't seen anything yet. Call this site crazy of outrageous since 21 Foot Art will teach you about new tricks when it comes to erotic sex that focuses on feet. In this particular site, the sex videos available are fairly awesome but there's a catch. You will see lots of feet or foot love making such as the dude licks hot chick's foot, a blonde who uses her feet to toy someone's dick, and lots of fuck position with some foot involved.
Features
The 21 Foot Art has grown ever since they've been into the online porn filming industry. In fact, they started 3 years ago. Back then, there are only a few videos available. When it comes to the quality of the videos, the site allows you to enjoy the flicks in Full HD. You can watch the videos on streaming in an embedded player or you could download them in MP4 formats. All of their photos are presented with high-resolution imaging and boy they look so gorgeous. There are more than 200 photos in a set that can be downloaded in zip files. They keep the design simple and pretty much straightforward. Videos are presented in thumbnails and properly categorized in four columns. You can even have a glimpse when pointing the mouse cursor to a certain thumbnail in a slideshow.
All the sex videos will focus on the girl's foot. Apparently, most of the videos will start with the dude kissing the model's foot. But of course, there will be ass fucks, blowjobs, jerking off, the doggie, pussy licking and everything under the sun. You will certainly enjoy what 21 Foot Art offers with their customers. For starters, a member can join and enjoy full access to 21 Sextury Network that provides over 20 porn sites. There are also updates with the hottest stars in the most hardcore porn scenes you could imagine. Members Benefits includes daily updates, watch the hottest new talents from the US and Europe, unlimited streaming, full access bonuses and accessing the site through mobile devices and console.
Content
The films typically begin with a girl showing her amazing body from head to foot. It's a jaw experience since most of the girls are gorgeous and hot sexy bodies. The girls will flirt with the camera as they remove their stocking-clad legs. They've got irresistible ass, natural pussy, and smooth skin. Afterward, a dude will show up and the pleasure starts. It will turn into an intense full-fledged sex as the guy will arouse the girl kissing her foot, going up to her legs to her thighs, titties, and the pussy licking.
Frequently, the scene features some foot worship as the guy will not just kiss the chick's foot but rather lick it in every way. There is also toe sucking, jerking the guy using foot also known as footjobs, intercourse, and the climax of the show is the one and only cum in the face. Kiara Lord always takes good care of her pretty feet. She makes sure that her feet are clean, soft and smooth. She prefers to go to a certain foot spa parlor to keep those toes relax and free from a blister. She knows it pleases her boyfriend very much whenever she uses her foot jerking the dick of her boyfriend. She likes her foot being kissed, sucked and licked as well. The scene will start with a softcore action until they go intense with blowjobs, pussy licking, squirting, ass fuck, the doggie and cum face.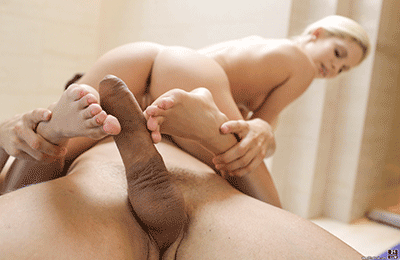 Conclusion
The site will give you more porn scenes that will make your day so busy. Despite being a newcomer in this kind of business, the 21 Foot Art knows exactly what they want to offer to their customers and that is total fuck foot-themed porn in high-quality.